Carmelo Anthony joins Amar'e Stoudemire in New York. Thing is, that's becoming for a while, and we know that because... Amar'e told us so.
Posted by Matt Moore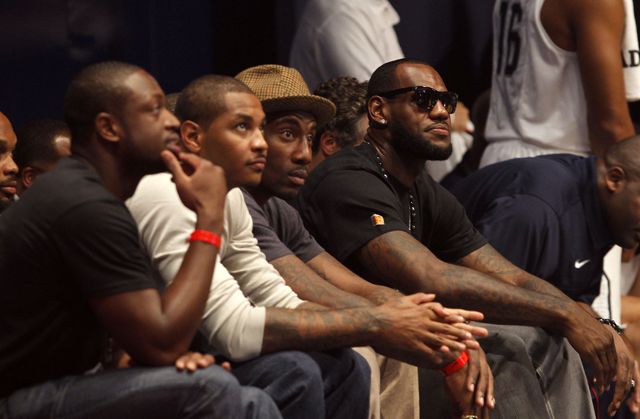 On July 4th, 2010, Amar'e Stoudemire, before he signed with the New York
Knicks
,
spoke to reporters outside of a Broadway show
he was catching during his visit with the Knicks. It should have been a simple quote. "Excited to look at my options, happy to visit New York, it's a great city, blah blah blah." Instead, Amar're dropped this.
"I've talked to Carmelo Anthony that he needs to come out here," Stoudemire said. "I've talked to Tony Parker. Both guys are ready to join me if I decide to come here. So we will see if we can work it out."
This got slipped by national media because it was July, in the NBA, July 4th, a holiday, and because everyone in sports media was focused on
LeBron James
and anything he would do. And hey, it was crazy. When would multiple All-Stars ever team up, right? Right?
You know the punchline, there.
But as we stand here nearly eight months later, you've got to look at this. You have an All-Star, before he signed with the Knicks, telling another All-Star who is under contract with another team that he needs to come out and join him on the Knicks. Eight months later, Anthony forces a trade to the Knicks.
Tampering
and collusion have been
hot topics
in the NBA since the
Heat
formed this summer. The Cavs considered a lawsuit againt the Heat for tampering with LeBron. And the
league had to comment
on the issue of collusion this summer, saying they would not get involved. But in the reflection of the Melo deal, the question has to be asked.
Was how the Melo acquisition occurred within the peramters of NBA policy?
There is Stoudemire, on record, during conversations with the Knicks, openly stating he is lobbying for Anthony to join him. From that moment on, the Anthony-to-New-York talk snowballed into a frenzy, then caught fire and threatened to swallow us whole in a black mass of hype, suffocating us beyond all... sorry. It was arough few months. Nonetheless, we can trace back what we saw at the introductory press conference for Melo as a Knick back to this comment in July, which garnered little scrutiny. It's time for people to take notice. These events are not occuring organically, they're not being conducted in good faith. Players have their agendas, and the teams involved may or may not have been involved in the influence of one player upon another. This isn't to say New York was behind Amar'e's comments to Melo, there's absolutely no proof of that.
But we do see this.
1. Player A talks to New York in free agency.
2. Player A tells media he's called Player B, who's under contract with another team, and tells him to join him in New York.
3. Player A signs with New York.
4. Player B has representatives leak to media that he wants to be traded and New York is his only option due to his leverage with his upcoming free agency.
5. Player A says he has not talked to Player B about the situation, suspiciously.
6. Player B is traded to New York.
That's a pretty suspicious line of events for nothing to have gone on. Players are not being slick with this at this point, because the league has made it clear it's not going to get involved in such discussions. But in the interest of competitive fairness, it has an obligation to its owners in these markets who are now bleeding All-Stars toward New York to ensure that everything is being conducted within the confines of NBA policy.
This isn't to say there's anything wrong with allowing it. It's every player's right to want to work where they want to, and their right to talk to whomever they wish. As long as the teams aren't involved, there's nothing wrong with allowing this kind of thing. But in that instance, the league needs to make a statement that there's no problem with players impacting players currently under contact. Amar'e wasn't a Knick yet, so there's a possibility he could have wound up somewhere else had talks gone differently. But they didn't, and he is. And now so's Melo.
For the fans of the other 23 teams outside of New York, Los Angeles, Chicago, Boston, and Miami, you have to wonder if there's something amiss in how things are being handled.