Posted by Royce Young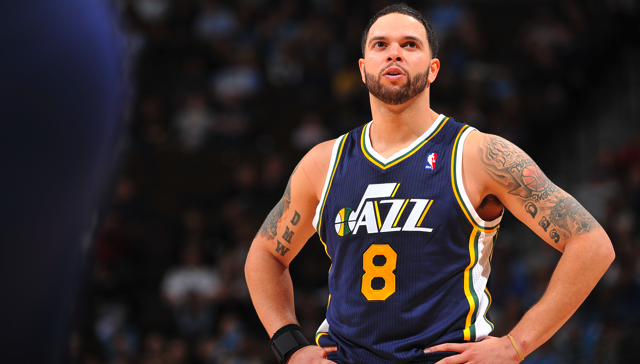 It took four excruciating months of hemming and hawing for
Carmelo Anthony
to get traded to the
Knicks
. It took a little less than 30 minutes for Deron Williams to go to the
Nets
.
In a stunning blockbuster, New Jersey acquire Williams, Utah gets
Derrick Favors
,
Devin Harris
and two first-round picks. A third team was used as the
Warriors
get
Troy Murphy
for
Dan Gadzuric
and Brandan Wright.
The Nets chased Anthony for four months, trying to schedule meetings, trying to convince him to sign an extension. And after it all fell apart, that's when they got to work. Instead of bringing in Melo, the Nets one-upped the Knicks and got a cheaper
and
better player in Williams. Mikhail Prokhorov said he didn't care about the Melo situation in Los Angeles. Well, I guess we know why now. Because their Plan B was way better than Plan A.
Everyone is going to talk about the Nets and what an insanely slick move this is. They just nabbed one of the top players in the league and arguably the best point guard for less than they were going to give up for Melo. It's a terrific deal for New Jersey. Like, it couldn't be better.
But on the other end, people in Salt Lake City haven't moved for the last hour. A couple hundred thousand jaws dropped in unison. Deron Williams is gone. Their franchise player, gone. Just like that. And only a couple weeks after Jerry Sloan resigned after 23 years at the helm in Utah. At this point I think you could relocate the franchise and it would be less of a stomach punch than this.
So why? Why was Williams moved now? Why so soon after Sloan's resignation? Are the two things related? So, so many questions.
Williams was already being brought up in talks that he wanted to go to New York in 2012 when he could opt out of his contract, as reported by Ken Berger. So really, the
Jazz
had the rest of this year and then one more guaranteed season with Williams. And we know what was coming in 2012.
Deron Williams
would most definitely be the new Carmelo Anthony. Questions every day about his future, rumors flying constantly out of Salt Lake -- it was going to happen.
And the Jazz played their trump card early. They nipped it in the bud. Instead of spending half a season dragging themselves down with trade and extension talks, the Jazz just got rid of the problem before it started.
Utah wasn't going anywhere this season. The offseason move of acquiring
Al Jefferson
wasn't working out and the team had been slipping since December. Really, this year was kind of a lost cause. Utah could look forward to next year, but again, it would be a year of Derondrama, and that wanted to be avoided. So a deal was made.
Clearly, general manager Kevin O'Conner wasn't confident in Utah's chances of re-signing Williams. I don't need to say that because it's pretty obvious with the deal. But the Jazz aren't a franchise that gets played. They've been successful for a quarter of a century with only a few minor hiccups here and there. They absolutely did not get back equal value for Williams, but they did get a solid package. They'll have to rebuild, which is something they aren't scared of doing.
Because now, Williams is New Jersey's problem. There's no guarantee (that we know of yet) of him signing an extension with the Nets. I'm sure Prokhorov and Billy King figure that will happen, otherwise they don't make this deal, but we don't know for sure. By the sound of it, Williams wasn't really asked.
Jazz radio man David Locke tweeted
that it wasn't Williams' choice to move and that he was stunned by it. So are we, Deron.
On top of it all, Williams was a bit of a problem child. He had major dust-ups with Sloan, didn't always get along with management and ownership and while he completely embraced the Jazz and Utah, he had some attitude. And the Jazz aren't an organization that routinely works through those type of things. So when you start to pile all of this on top of each other, it starts making more and more sense.
There's potential this works out for Utah. They loved Favors before the draft, got a quality point guard in Devin Harris and two first-round picks that will likely be high. They foundation of Utah has been shaken if not destroyed over the past month, but there's a clear effort to rebuild. And I guess it had to start with getting rid of the team's best player. Williams helped nudge Jerry Sloan out the door and just a few weeks later, he was packing too.
But here's the good news Utah: You've just got a lot better chance at getting Jimmer Fredette now.