A one-stop shop for all of Wednesday's NBA trade deadline buzz. Posted by Ben Golliver.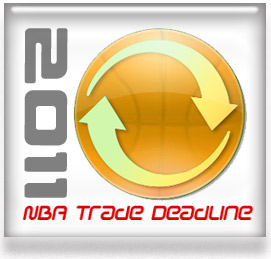 Tuesday saw only a few minor deals, but Wednesday is already off to a fast start.
Here's a compilation of various trade rumors that hit on Wednesday.
(Latest Buzz)
(Afternoon Buzz)
Ken Berger of CBSSports.com reports : "Cleveland and Portland had been in discussions with Charlotte for Gerald Wallace, whom sources say is headed to the Blazers. Package for Wallace believed to be centered around Andre Miller. Marcus Camby was discussed, but he might retire rather than report to Char. Other sources indicate the Wallace deal would be Przybilla, a pick and cash for Wallace. If true, Bobcats punting."
HoopsWorld.com reports : "Sources close to the situation confirm ... Trail Blazers to land Gerald Wallace from Charlotte" but that the teams are "still working on player details."
A source close to the situation tells CBSSports.com that as of 4:30 PM Eastern there is still "nothing to confirm" regarding a potential Portland Trail Blazers trade for Charlotte Bobcats forward Gerald Wallace.
The Oregonian reports that center Joel Przybilla "hasn't heard anything about a trade to Charlotte" and expects to start Wednesday night when the Blazers face the Lakers. The paper also report's that Przybilla "said he spoke with agent Bill Duffy last night and Duffy 'didn't seem too concerned' that he would be moved."
ESPN.com reports that the Cavaliers may be out of the picture for Wallace. "I'm told Cavs-Bobcats talks about Wallace are dead. Wallace didn't want to be in Cleveland anyway. Portland talks real serious."
(Lunch Buzz)
ESPN.com reports that the Utah Jazz continue to field plenty of offers but that they are not necessarily anxious to make a move. "Today I've spoken with several GMs who put in calls to the Jazz within minutes of hearing about the Williams trade. Who are they after? In particular, Paul Millsap and Andrei Kirilenko are coveted. The Jazz won't just give either player away. They don't think Derrick Favors is ready to play heavy minutes at the 4, and they want to bring him along slowly."
Yahoo! Sports reports that the Portland Trail Blazers are "pushing hard and getting closer to completing a deal" for Charlotte Bobcats forward Gerald Wallace but that Wallace has other suitors in the Eastern Conference. The site notes that the Cleveland Cavaliers have also expressed interest in Wallace recently. Meanwhile,
ESPN.com reports : "The Cavs and Bobcats have talked about Gerald Wallace, sources say, but haven't made significant progress."
The Associated Press reports : "Cavs and Bobcats have had on/off talks about Gerald Wallace. Told 'Cats hesitant to deal Wallace unless they can get lots back."
CSNNW.com reports : "Just got off the phone with an NBA source who says his team believes the Wallace-to-Portland deal is "done." Supposedly, Batum not involved in the proposed Wallace trade."
The Washington Post reports that it could be a quiet deadline for the Wizards, as they don't want to take back salary or part with any of their young pieces.
(Morning Buzz)

Ken Berger of CBSSports.com with much more on the deal . "The Nets have agreed to acquire All-Star point guard Deron Williams from the Jazz for Derrick Favors, Devin Harris, and two first-round picks in a three-team trade that also sends Troy Murphy to Golden State, sources confirmed to CBSSports.com. In a swift and astonishing comeback from their failed pursuit of Carmelo Anthony, New Jersey also will get Dan Gadzuric and Brandan Wright from Golden State, which will buy out Murphy, sources said. Murphy is considering signing with Boston, Miami or Orlando once his buyout is complete."
Sports Illustrated reports that the Utah Jazz are fielding offers for their big men after acquiring Favors in the trade. "Jazz phones "blowing up" with calls about Millsap, Jefferson, source says. Teams trying to see if they can get either on the cheap. With about 24 hours till the deadline Utah suddenly is ripe with assets. Jefferson/Millsap/Okur, picks and Kirilenko's $17.8 mill exp deal."
The Oregonian reports that, after many calls, the Blazers "appear to be shifting toward standing pat at the trading deadline after several flirtations with teams ran into dead ends."
Sports Illustrated reports that the Blazers have been "pushing Greg Oden in trade talks" but that "Oden's injury history, predictably, has GM's reluctant."
ESPN.com reports that the Portland Trail Blazers have been "quietly shopping Greg Oden" and that New Jersey Nets point guard Devin Harris "was their top target and now he's off the table. Not sure where they turn."
ESPN.com reports that the Charlotte Bobcats "seem intent on moving" forward Gerald Wallace and have had talks with the Dallas Mavericks, Houston Rockets, Los Angeles Clippers, Indiana Pacers and Cleveland Cavaliers. The Cavs could absorb Wallace into their trade exception.
Sam Amick reports that the Golden State Warriors and Boston Celtics are "in discussions that would send Nate Robinson to the Warriors." He reports that the deal is "not done yet though." Update: Amick now reports : "Source says Nate Robinson will not be coming to the Warriors. Never discovered the other pieces, but that deal w/ Boston is not going down." So there you have it.