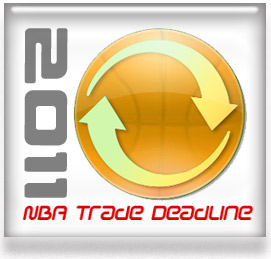 Hornets trade Marcus Thornton to Kings for Carl Landry. We're not sure why.
Posted by Matt Moore
Multiple sources including
NBA FanHouse
and
Yahoo! Sports
are reporting that the Sacramento Kings and New Orleans Hornets have agreed to a trade which would send Carl Landry to the Hornets in exchange for Marcus Thornton and cash. The deal is expected to be completed tomorrow.
We expected the Hornets to be active. And we expected them to look for frontcourt help. But Carl Landry? It's not that Landry's not a good player, he certainly was for Houston. He's got good touch around the basket and great effort. But he's also the 14th worst power forward in
defensive rebound rate
and the
worst power forward at the same stat
among players averaging 25 minutes per game. It's entirely possible that he'll explode next to
Chris Paul
, but what good power forward doesn't? The numbers aren't positive, however.
Landry has averaged a 34% FG percentage in the pick and roll this season according to Synergy Sports. He shoots 49.6% out of the post, which is nice, but he also turns the ball over an astonishing 17.5% of the time there. Defensively, he hasn't been
bad
this season, but he's also struggled with a number of things, most notably in the post. He's surrendering a 50% FG percentage in the post this season, which is in the 25th percentile of the league. Not exactly great.
Thornton is a bit more complicated. He hasn't gotten nearly as many minutes as Landry this year, as Monty Williams has not been impressed with him. But he's been effective at both ends of the floor for the Hornets, and should work well in Sacramento off the bench. He's been particularly good against the pick and roll defensively, although in a limited sample size.
Thornton, though, holds the potential to be an explosive scorer. He can really fill it up, hence the nickname, "Buckets." He's also the kind of player fans irrationally attach themselves to, so Sacramento's got that going for them. But the Hornets? They're basically hoping Landry becomes a defensive stalwart suddenly and keeps up his ability on the offensive glass while improving his defensive rebounding. Maybe working next to
Emeka Okafor
will bring out his best, but it's a stretch. Bodies matter for the playoffs, and
Jason Smith
is terrible, but when it comes down to it, the Hornets have gambled heavily here.
The Hornets took a dive headed into the All-Star break, but more concering is their trade history, adding
Jarrett Jack
,
Trevor Ariza
, and Carl Landry for Marcus Thornton,
Jerryd Bayless
, and
Darren Collison
. If the end result is a long playoff push, great. If not? There will be some questions in the Big Easy.