A one-stop shop for all of Tuesday's NBA trade deadline buzz. Posted by Ben Golliver and Matt Moore.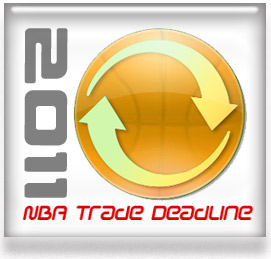 For months we've heard from NBA executives and agents that the uncertainty around
Carmelo Anthony
was holding up a lot of league business. With the Denver
Nuggets
finally agreeing to trade Anthony to the New York
Knicks
on Monday, a chain reaction of other moves is expected around the league.
Here's a compilation of various trade rumors that hit on Tuesday.
(Latest Buzz)
Ken Berger of CBSSports.com
reports
: "No decision expected from New Jersey tonight on
Devin Harris
scenarios. 'Will sleep on it,' source says."
ESPN.com reports
that the Sacramento
Kings
and New Orleans
Hornets
are "closing in on a deal that would send
Carl Landry
to the Hornets for
Marcus Thornton
and
David Andersen
." Sam Amick also
reports the same deal
and notes: "trade call in the morning." Meanwhile,
Yahoo! Sports reports
that the deal is Landry for Thornton and cash, without Andersen.
NBA.com also reports
that Andersen is not involved.
Here's Matt Moore's
full breakdown on the Landry for Thornton proposed trade
.
ESPN.com reports
that the Miami
Heat
are shopping forward
Mike Miller
, who has missed much of the season so far due to injury. "According to multiple league executives, the Heat have floated Mike Miller in several different trade scenarios as they look to upgrade at the center or point guard positions."
Here's
some quick thoughts
on how easy or difficult it will be for Miami to move Miller.
NBA Fanhouse reports
that Nene says Denver is "where I want to be" and "I definitely hope I get [an extension]."
NBA.com reports
that the proposed swap of expiring contracts between New Jersey and Golden State is being discussed but is only "50/50." The site writes that
Nets
forward
Troy Murphy
and a second round pick would go to the
Warriors
for center
Dan Gadzuric
and forward
Brandan Wright
.
Yahoo! Sports reports
: "Golden State and New Jersey near agreement to trade Dan Gadzuric and Brandan Wright for Troy Murphy and 2012 second rounder." All of the players involved are on expiring contracts. There's still discussions that could expand deal to include Devin Harris and 3rd team - possibly Dallas or Portland - but NJ-GSW part solid. If G-State completes deal for Murphy, it's expected he'll get bought out and become a free agent. Then? Orlando, Dallas, Boston, Miami etc."
ESPN.com reports
that the Orlando
Magic
may be interested in Memphis
Grizzlies
forward
Zach Randolph
. "While it's unclear if it was actually proposed, I was told that, internally, the Grizzlies have discussed sending Randolph to Orlando for
Brandon Bass
and
Jason Richardson
. The thinking in Memphis is that the deal would keep the Grizzlies competitive this season while also giving them a young power forward going forward. Randolph is an unrestricted free agent this summer and it isn't clear if the Grizzlies can afford to keep him, while Bass is due $4 million next season and has a $4 million player option in 2012-13."
NBA.com reports
that the Atlanta
Hawks
are "interested" in Washington
Wizards
point guard
Kirk Hinrich
but that Washington's current price - a young player and a first round pick - is too much. The Hawks have reportedly mentioned guard
Mike Bibby
and forward
Marvin Williams
.
(9:30 PM Eastern Update)
Ken Berger of CBSSports.com reports
further details on the possible Devin Harris swaps with the Dallas
Mavericks
and New Jersey Nets. "Nets considering sending Devin Harris to Portland for
Andre Miller
or Dallas for
Caron Butler
's expiring contract,
Dominique Jones
and 1st."
The Bergen Record is reporting
that New Jersey Nets point guard Devin Harris may be headed to the Dallas Mavericks.
ESPN.com is reporting
that "sources say Mavs have already rejected Nets' request for Dom Jones and a first-rounder in addition to Caron Butler. Butler [alone] is their offer."
The Dallas Morning News throws
some unsourced cold water on the Devin Harris talk. "Normally, the Mavericks look for bargains when it comes to the trade deadline. This year, bargains won't do. Steals are what they are seeking. If it's not along the lines of something great for something close to nothing, they don't seem interested. Speculation about a reunion with Devin Harris seems farfetched, at best. And the Mavericks are in the enviable position of liking their situation and not needing (or wanting) to take on any long-term money in any deal."
Yahoo! Sports is also reporting
that the Mavericks are in the mix for Harris. "The Nets have discussed deals with a multiple teams for Harris, with possible scenarios in the works with the Portland
Trail Blazers
and Dallas, sources said. Privately, Harris is hoping for a trade back to Dallas where he started his career, two sources familiar with his thinking told Yahoo! Sports. The Mavericks also have serious interest in a reunion with Harris."
ESPN.com reports
that there is a "100% chance of Devin Harris being traded. Dallas and Portland likeliest spots. Mavs offer Caron's expiring contract. ATL not offering much for Devin. A shame because he'd be a great fit with Hawks."
NBA Fanhouse reports
that the Denver Nuggets are done dealing: "Source close to situation doesn't expect Nuggets to do any more deals by Thursday deadline. Said any deal would have been put into this one."
The Star-Tribune reports
that the Minnesota
Timberwolves
are sending reserve big man
Kosta Koufos
, who was acquired from the Utah
Jazz
in an
Al Jefferson
trade last summer, to the Denver Nuggets for a 2015 unprotected second round pick.
ESPN.com reports
: "Atlanta is interested in Devin Harris, who is being shopped hard by NJ. Not offering Marvin Williams, though. Portland and Dallas interested too."
The Oregonian reports
that a source tells the paper that Portland Trail Blazers owner Paul Allen is "eager to get something done at the trade deadline."
The Sacramento Bee reports
that Carl Landry won't play in tonight's game against the Miami Heat because the team is "involved in serious trade talks" that involve him.
Sam Amick reports
that "at least four teams [are] strongly pursuing" Landry.
(7:30 PM Eastern Update)
Yahoo! Sports reports
that the Hawks are considering trading
Jeff Teague
and Mo Evans to Cleveland for
Ramon Sessions
and
Manny Harris
. The Hawks have suddenly gotten very active and are bringing up
Jamal Crawford
quite a bit in other deals. Teague still has some upside but fell backwards when given the opportunity for the starting job. Sessions could have a big impact on the Hawks' offense.
Chicago media
is
reporting
that the
Bulls
have traded second-year forward
James Johnson
to the
Raptors
. Why is this relevant? They now have cap room to chase another acquisition, potentially
Anthony Parker
. Yahoo! Sports
reports the trade is for a draft pick
. The Bulls have announced in a press release that they are receiving Miami's 2011 first round pick from Chicago.
ESPN.com reports
that the pick could be flipped to the Memphis Grizzlies in a package for guard
O.J. Mayo
. "Word is Bulls have NOT abandoned hope of striking deal for OJ Mayo and now have one more first-round pick to peddle after James Johnson deal."
Ken Berger of CBSSports.com reports
than an attempt to net Portland Trail Blazers center
Marcus Camby
by the New York Knicks has fallen through, but that the Blazers are "actively shopping" Camby,
Joel Przybilla
and Andre Miller. Berger writes that Portland is "very likely" to make "at least one trade" prior to the deadline.
Yahoo! Sports also reports
that the Blazers are generating interest in Camby: "Knicks actively trying to acquire Portland center Marcus Camby, but source said Blazers are weighing more attractive options."
ESPN.com reports
that the Boston
Celtics
pursued Minnesota Timberwolves forward
Corey Brewer
before he was traded to the Knicks in the Anthony trade and
also notes
: Houston covets 3 big men: Gortat, Varejao and Nene. Unlikely to get any if them.
Yahoo! Sports
reports
"Nene frustrated by not having contract extension offered by DEN yet. MIA, HOU & OKC interested. Nugs wont trade him and plan to make offer." a tad more
here
: "Nene wants extension in Denver - in 5 year, $50M-plus range - but sources say he's intrigued with how he'd fit into OKC. Feeling's mutual."
The Detroit News reports
that the Orlando Magic, Miami Heat and New Orleans Hornets are "looking for bigs"
and that
Nets point guard Devin Harris "should be moved to Portland."
Finally
, that the Charlotte
Bobcats
are "shopping" both
Gerald Wallace
and
Stephen Jackson
, with Wallace "more likely to be moved."
Yahoo! Sports reports
that the Oklahoma City
Thunder
are "taking a careful look" at Memphis Grizzlies center
Hasheem Thabeet
. The site reports the Thunder are only willing to pay "a modest price."
HoopsWorld.com reports
that "plenty of teams have called for
Aaron Brooks
, but he's likely staying in Houston." The site
also reports
: "Source confirms that the Atlanta Hawks have expressed interest in Devin Harris. They've also inquired about Ramon Sessions."
The Sacramento Bee reports
that sources tell them that "the Kings will make a move by the deadline" and that the team is seeking "player(s), cash, draft picks."
CSNNE.com reports
that the Boston Celtics player that's finding his name in the most rumors is rookie guard
Avery Bradley
. "The one Celtics player whose name has come up most in conversations I've had today as someone who's drawing interest, has been Avery Bradley. That, plus D. Ainge's track record with late first-round picks, tells me he's probably going to be a pretty good player one day."
Sports Illustrated
reports
: "Oklahoma City looking for center, sources say. Have inquired about Thabeet, Nene, two players who fit go-young plan."
(4 PM Eastern Update)
There had been some talk that the Denver Nuggets might flip forward
Danilo Gallinari
for a draft pick after acquiring him in the Anthony trade.
ESPN.com reports
that the Nuggets plan to hold on to Gallinari.
ESPN.com reports
that the Nuggets are hoping to sign big man Nene to a contract extension. "With Anthony moved, the Nuggets, according to sources, are focused on either extending Nene before the July 30 deadline or executing a trade closer to the draft," ESPN reports. "The Brazilian forward has the right to opt out of his contract at season's end and is poised to walk away from the $11.6 million he's scheduled to make in 2011-12 to become a free agent."
The
New York Post reports
that the Knicks need to add a big man and "hope to pursue
Jared Jeffries
if he gets bought out by Houston, former Knicks free agent Earl Barron, or a D-League player."
NBA.com reports
that the Nuggets will now look to trade
Al Harrington
, who has a ton of money left on a five-year contract signed last summer.
Yahoo! Sports
reports
that the Portland Trail Blazers are "expected" to move point guard Andre Miller and center Marcus Camby.
Meanwhile,
The Oregonian reports
that center Joel Przybilla, who has been on the block for months, would consider retirement or accepting a buyout if traded.
Yahoo! Sports
reports
that the Chicago Bulls are "open" to trading forward James Johnson and may be seeking a draft pick in return.
The
Bergen Record
reports
that the New Jersey Nets are shopping point guard Devin Harris hard.
Yahoo! Sports
reports
that the Cleveland
Cavaliers
have made "everyone" available in trade.
Fox Sports Ohio reports
that the Cavaliers have a "big deal in place" using the trade exception generated by last summer's trade of
LeBron James
.
Yahoo! Sports
reports
that the New Orleans Hornets are "shopping" second-year guard Marcus Thornton and are asking for a first round draft pick in return. The New Jersey Nets are reportedly interested.
CSNNE.com
has shot down
a potential
Shane Battier
to the Boston Celtics deal.
Yahoo! Sports
reports
that the New Orleans Hornets see Sacramento Kings big man Carl Landry as a "target."