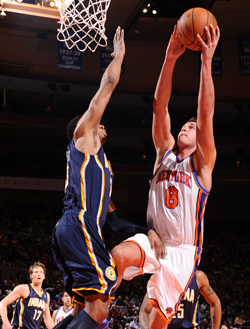 Posted by Royce Young
Some wondered when the Carmelo Anthony trade happened if the Nuggets' new pieces should actually pack for Denver. There was talk that the Rockies might not be their final destination.
Masai Ujiri told NBA.com otherwise saying, "We got these guys to play for the Nuggets." That doesn't mean other teams are going to at least inquire.
According to ESPN.com, the Los Angeles Clippers are offering a first-round pick that they acquired from Minnesota to Denver for Danilo Gallinari. The pick is top 10 protected in 2011, but completely unprotected in 2012, making it potentially one of the most valuable picks out there. You know, because Minnesota stinks and all.
An interesting deal for both sides that could say a lot. The Clippers have been hunting a quality small forward for some time as rookie Al-Farouq Aminu develops. Gallinari would certainly fill a role next to Blake Griffin, even if he's not exactly the ideal scoring punch they're probably hoping for at the 3. Still, with his outside floor-stretching ability teamed with Eric Gordon, the Clippers would have a nice inside-out look.
Thing is, that pick is really valuable. And while Gallinari is a good player, he might not be a good enough fit to justify giving it up.
On the Nugget side of things, a deal moving Gallinari would signal a plan to blow up things in Denver. I don't think Ujiri was lying when he said those players were acquired to be Nuggets, but he also might not have expected deals like the one the Clippers are offering. He has some very intriguing decisions to make here. If he landed that pick the Nuggets would have some tough lotteyr years ahead, but would also have a bevy of first-round choices to rebuild with.
Knowing Ujiri, he's going to try and ask for more from the Clips. Probably Aminu or maybe an expiring (Rasual Butler, Craig Smith) to balance things out.
But these next few days leading up to the deadline will be telling for Denver. They're at a crossroads and Ujiri has to decide if he wants to check, fold or go all in with what he's got.