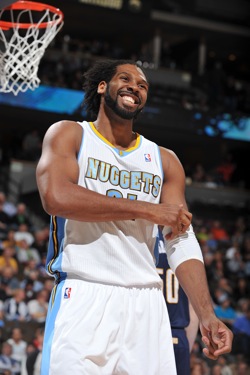 Posted by Royce Young
Now that the
Carmelo Anthony
situation has been resolved, it's time for the
Nuggets
and Masai Ujiri to move on with the roster. There's been a downgrade for sure, but the challenge now for Denver is figuring out what to do with the current team.
Whatever the decisions may be, there's an easy one to make already: Keep Nene long term.
As Ken Berger reported a month ago,
the Nuggets could be faced with another Melo situation in regard to their Brazlian big man. Nene has an opt-out option this summer and he's probably looking hard at using it. His value is high and with centers being at a premium, he's looking for a new paycheck. And to this point, it hasn't looked like Nene was all that interested in signing.
So the Nuggets have reportedly shopped Nene some since they are faced with basically the same problem they just tried to fix. Either deal Nene or have nothing to show for it when he leaves.
But ESPN.com reports
the Nuggets are pushing hard for a contract extension for Nene.
"But teams that have been calling for Nene -- and I'm told that more than half the league has rung Denver in recent weeks to register interest in the Brazilian big man -- are gradually being informed that a key element of the Nuggets' post-Melo plan is trying to convince Nene to stay."
The Nuggets have a big man that can be built around, so obviously losing Nene would be a massive setback to go with losing Melo. In keeping Nene, Denver would be making the statement that its trying to stay competitive in the West, at least for now. Moving him would signal a complete blow-up.
Will Nene sign an extension with Denver? Hard to say. He's got that opt-out option and you have to wonder if losing Melo will affect his thinking.
While the Nuggets want to extend Nene and keep him, if it becomes apparent by Thursday that's not happening, it wouldn't be shocking if Denver turns on its face and trades Nene anyway. They want to keep him just like they wanted to keep Melo, but sometimes business just gets in the way of what you want.