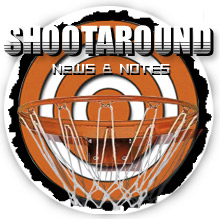 Posted by Royce Young
Dave Krieger of The Denver Post: "Everybody will declare victory because that's what everybody does after a trade, but all we know for sure is the end of the interminable Carmelo Anthony drama was a victory for Anthony, who got everything he wanted. Anthony not only forced the Nuggets to trade him where he wanted to go, he also got the three-year, $65 million contract extension he wanted before a looming labor dispute changes the rules. As excited as NBA officials may be about the resurrection of the Knicks in the league's biggest market, they cannot ignore the dire straits in which smaller-market teams find themselves as the old labor agreement expires. Denver joins an unfortunate club that already included Cleveland and Toronto. Three of the game's biggest stars -- Anthony, LeBron James and Chris Bosh -- abandoned these markets for brighter lights in the last eight months."
Mark Kiszla of The Denver Post: "There is relief in Denver, but no joy. In a thankless task that has consumed every waking minute of every day since being hired, new Nuggets vice president of basketball operations Masai Ujiri made the best of a lousy situation, getting a haul of young talent and a No. 1 draft choice from the Knicks. Like every one who loves basketball in Denver, his emotions were rubbed raw by the deal."
Woody Paige of The Denver Post: "The deal and the ordeal are done. The Melodrama that seems to have taken longer than the siege of Ilium by the Greeks finally was finished Monday night. Carmelo Anthony is going from Our Dusty Old Cowtown to New York City. Melo Leaves Hicks in Sticks for Knicks. Good for Anthony. Good for Denver. Good deal, goodbye, good luck, good riddance. What now for the Nuggets? Who knows? They received quantity of unknown quality. They didn't get as much as most of us would have wished -- four first-round draft picks -- but they got more than the worst most of us feared: nothing."
Marc Berman of the New York Post on the impact the deal has on Donnie Walsh: "The Carmelo Anthony blockbuster -- spearheaded by Knicks owner James Dolan with Isiah Thomas in his ear -- does not bode well for team president Donnie Walsh. Two sources told The Post that, as negotiations for Anthony heated up in Los Angeles with Dolan, Walsh bolted for Indiana to see his family during All-Star Weekend. One source said Walsh packed up and left because he was irritated and felt it was a waste of time being in New York since trade negotiations were taking place in Los Angeles without him, and with Thomas advising Dolan. Another league source said Thomas wanted to make the deal more than Walsh did."