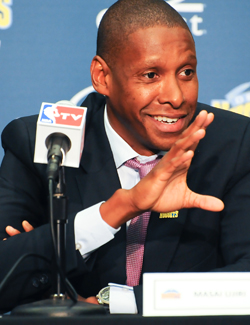 The Nuggets flirted with danger but wound up trading Melo for a good set of assets. The Melo era is over in Denver.
Posted by Matt Moore
This was not the best run trade negotiation period in history. The Nuggets repeatedly pushed for too much, and then when they somehow miraculously got offered that much, they pushed again. Masai Ujiri played Russian Roullette with this trade but in the end, it wasn't
Carmelo Anthony
, or Donnie Walsh, or Leon Rose, who hit the
Magic
chamber. It was Isiah Thomas loading it six chambers full. As usual.
The Denver Nuggets now have a completely different team than the one they entered the All-Star break with. The odds of the roster as it stands currently being the one after the trade deadline are also very low. The Nuggets are currently in-between transitions, able to compete for the playoffs but with no true star, they're likely stumped once the first round hits. They have their point guard of the future (
Ty Lawson
) and now
Raymond Felton
complicates that. They have talented combination forwards, and just added more. They have aging veterans and now have young pieces. They're probably going to make the playoffs but probably won't get very far. They're rebuilding but trying to win now. They're in two very different places at the same time.
But really, this was the best circumstance they could have hoped for once their last ditch effort to get Mikhail Prokhorov to convince Anthony to come to the
Nets
was proven to be what we always knew it would be: a fantasy. Yes, getting
Devin Harris
,
Derrick Favors
,
Troy Murphy
's expiring and four first-rounders would have been ideal, but it simply wasn't to be with Anthony holding all the cards. Somewhere, in the back of Denver's mind was the image of the
Cavaliers
walking off the floor after losing that 25th game. So it was the
Knicks
, as we knew all along it would be, really. And for it being the Knicks? They got a whale of a deal. They walked off with four players who have started at some point for the Knicks, including their quality free agent point guard, the young super-long shooter, and the high-upside foreign center prospect. They nab a first rounder down the line, multiple second-round picks, and clear a bunch of cap space, especially if they decide to move some of the other pieces.
We could have had this over months ago, but Masai Ujiri walks out a winner with this. He landed a good set of assets, draft picks, and cap space to move forward while also not crippling his roster out of a playoff spot. This is a win-win-lose for Ujiri. He got a significant amount of assets without being forced to commit to an immediate tanking scheme, but he still lost a superstar.
And that's the big thing to remember here. If Carmelo Anthony were to have a crisis of conscience, call up Ujiri, and say "I want to stay. I'll sign the extension," Melo would still be in uniform tomorrow for the Nuggets like he said he would be. Because four good players an a pick is great, but you'll always take the All-Star. That's why they're All-Stars.
But beyond that, this was
their
All-Star. Thats what will get lost in all this. Tomorrow thousands of kids with Melo jerseys will wake up in Denver owning throwbacks. Fans have lost their guy. The All-Star. The crown jewel. The sports hero. He was drafted there. When Joe Dumars looked over him, Denver committed to him. They put pieces in place to help him win a championship, and now they have a B- point guard, an Italian shooter, an expiring wing, and a Russian big to try and fill that whole. They can't have the title contention and rebuild. Not how it works in this league.
So the Nuggets will have decisions to make once this season is over. Blow it up completely? Try and land anothers superstar? Commit to Lawson-Afflalo-Gallo? What do they do with Nene? These are all things that will have to be answered between now and Thursday, and then this summer under a new CBA. But for an impossible situation with very little hope, and against a formidable trade partner across the table, the Nuggets have walked away with some dignity, some value, and some hope. It's finally over. Carmelo Anthony has been traded, and the franchise isn't in ruins.
"Thank God for Isiah Thomas" should be on a billboard outside the Pepsi Center.