Posted by Royce Young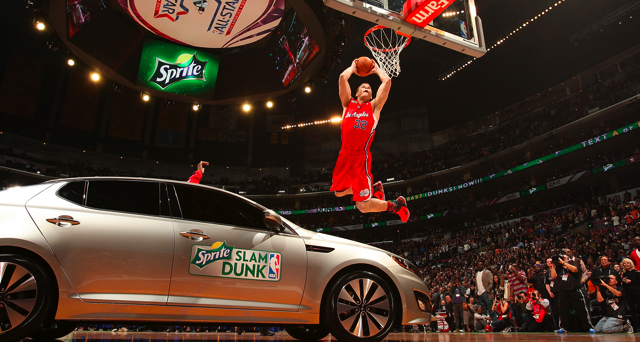 LOS ANGELES -- Buzz started building early Saturday afternoon around the Staples Center.
Can Team Texas really defend its Shooting Stars title?
They did not in fact, as Atlanta took it away. Quite a moment, I can assure.
But as the clock ticked down to the main event, word started pop up that
Blake Griffin
had big plans. And when a car started driving out onto the court, I guess we knew. Blake Griffin is going to jump a
car?
Then it got better.
Baron Davis
popped his head out of the sunroof.
Oh and on top of that, Griffin brought out a gospel choir to sing "I Believe I Can Fly" as he soared. Quite the production.
"It was actually my idea to use the car," Griffin said. "When they first came to me with the dunk contest idea, they said there was no rules. I was like, 'So I can jump over a car?' kind of playing around. He was like, 'Yeah.' And I was like, 'Oh, maybe I have to do it now.'"
With him soaring over an automoble, there had to be some concerns about safety though. Griffin said Clipper coach Vinny Del Negro called him into his office to talk about it, but Griffin said he played dumb, saying Del Negro already knew about the car stunt. But after a dress rehearsal Thursday, everyone was at ease.
The question was though, what if you didn't make the finals Blake? How could you know you'd be there? Griffin tried to coyly say he didn't, but we all knew otherwise. This contest was really over a month ago when the contestants were announced.
McGee on the other hand, busted out his big guns early on. Not having the idea he'd be in the finals, McGee dunked two basketballs on two different goals. It was... awesome. But for his final try to follow up Griffin's car dunk, McGee didn't really have a plan. He said after that he was planning on the free throw line dunk but
Serge Ibaka
did it before him and he didn't want to recycle it.
"My last dunk, the second dunk I did was actually supposed to me my last dunk, but Serge did a dunk similar to the one I was going to do," McGee said. "So I had to change it around just to get a high score. But definitely [Griffin] came prepared with the car, and nothing's going to beat the car unless I bring a plane out or something."
Some other notes, quotes and observations from All-Star Saturday:
The Skills Challenge was of course pretty much as lame as ever, however, Chris Paul did miss his opening layup, which was kind of funny. Stephen Curry won with an impressive 28.1-second run in the finals beating Russell Westbrook who notched a 30-second effort his first try, but finished out with a 44.1-second run.
During introductions for the 3-point contest, Ray Allen was cheered wildly, while Paul Pierce was booed loudly. Pierce soaked in the boos, gesturing that he wanted more. Sheryl Miller asked Pierce about it and he said, "I don't understand how they can boo me and not boo Ray." I didn't get it either Paul.
Pierce however won the crowd over, hitting a buzzer-beating moneyball to top Dorell Wright to advance on to the finals of the 3-point contest. As soon as the shot dropped, Staples, well, clapped loudly. I don't want to say erupted, because for the most part the arena stayed comotose, but still, it was louder than most other moments.
Daniel Gibson started 0-9 before finally hitting a moneyball on the second rack. He finished the round with just seven points and left three balls on the final rack. You might be able to make the case that it was the worst effort ever in a 3-point contest. As John Hollinger tweeted, for a second, we were all worried he'd miss 26 in a row.
Kevin Durant actually put up a worse score than Gibson, but at least finished. Then again, I guess that means he had a worse percentage. Gibson was 31.8 percent from 3, Durant was just 24 percent.
James Jones won the 3-point contest, beating out Ray Allen and Pierce. Here's where you make your joke about the Heat finally beating the Celtics.
Honestly, I was a bit disappointed in the crowd's reaction when Blake Griffin was introduced. I guess I just expected more from the hometown crowd. Then again, I think we all keep forgetting that Griffin actually plays for the Clippers, not L.A.'s other team.
Daryl Dawkins and DeMar DeRozan named their dunks. "East Bay Funk Remix" and "The Showstopper."
Serge Ibaka came out representing NBA Africa. And he pulled off a legit free throw line dunk. He got robbed with just a 45, because to this point, no one has ever done it. Dr. J tried, but had a foot over the line. Same with MJ. Ibaka had a full foot behind the stripe and finished it clean. The crowd didn't react well originally, but upon replay, definitely buzzed.
Important lesson learned that we already knew: If you miss your dunk on the first try, it really loses a lot of luster. JaVale McGee's double-dunk was awesome, no doubt, but watching him struggle to get it done was tough. It didn't affect the score because he got a 50, but the thing with these super difficult dunks is that they're hard to finish. High risk, high reward. Well, I guess McGee got the reward anyway, but still, those 90 seconds of awkwardness don't represent his score.
Blake Griffin suffered the same fate as McGee and DeRozan, missing on his first try. But actually, it kind of worked the other way for him. People got a taste of what he was doing and most everyone said, "No way!" The entire arena stood, cheering his next attempt. His missed, but nailed it on his third try. No doubt, it was an impressive finish.
On McGee's second dunk, he actually tossed in three basketballs. Which was insane. But his mother came out and wooed the judges, giving each a kiss on the cheek. Except for Dr. J who was last. For some reason, they kissed on the mouth. It was weird.
Griffin pulled out Vince Carter's "elbow dunk" and after seeing Griffin's arm after the game, I don't know if it was worth. Definitely bruised up pretty good.
Before Griffin's car dunk, Kenny Smith was trying to "hype" it, and accidentally blew the punch line. He said "We've seen teddy bears, we've seen cars, now you're going to see something else." Whoops.
The dunk contest is the prime event of All-Star Saturday and despite some awkward moments as players missed dunks, there's no denying it was entertaining. The anticipation was at an all-time high and the creativity of McGee, with the power of Griffin, plus DeRozan and Ibaka's vastly underrated finishes, it was a good night.
You can't dog on players too much for missing dunks. I mean, it can't be easy tossing a ball off a backboard, putting it between your legs and flushing it through a 10 foot goal. No matter how easy they might make it seem.