Posted by Royce Young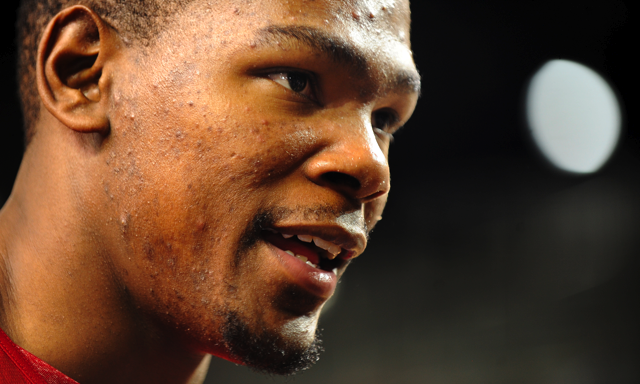 Kevin Durant walks out of the locker room, head held high, and immediately starts shaking hands. His Thunder just destroyed the Sacramento Kings and Durant has completed his post-game interviews. He's the only Thunder player that speaks every night to the media and after 10 solid minutes of questioning, his night finally appears to be over.

But he comes out and starts shaking. He calls each security guard and Thunder employee by name, looks them in the eye and says thank you as they congratulate him on the win.

It's almost like a politician on the campaign trail, except there are no cameras capturing Durant's candid kindness. It's just KD being KD.
As Durant gets ready to play in his second All-Star Game and first as a starter, he's still the unassuming superstar. It's like Brooklyn Decker looking in a mirror and saying, "What's the big deal?" Durant's constantly in the dark, but it's one of the reasons it's so easy to like him.
Just two years ago, while sitting on the All-Star bubble in his second season, Durant emphatically declared he was no star. Now, as the reigning scoring champ, the league's current leading scorer and the second leading vote getter in the West behind Kobe Bryant, it's hard to argue with that, but Durant is still trying.

"Nah, I don't" Durant said with a small grin when I asked him if he feels like a star yet. "When I go to the other arenas and they call my name I kind of listen to the crowd. They don't roar as much as they do for a Kobe or LeBron or Dwyane Wade or Carmelo. I'm not there. I'm happy with the progress I'm making as a player, I wouldn't say I'm a star but I'm growing, I can tell you that."
Durant's personality gets almost as much pub as his game. Easy to understand why too. I mean, just read that quote again. We're talking about the league's leading scorer and someone that brought in more than 1.7 million All-Star votes. And yet he's still no star in his own mind. Talk about not getting it.
In fact, while I was asking him the question about his own profile, I said, "Let's face it it though, you're an awesome basketball player." Durant stopped me mid-sentence and sincerely said, "Thank you," as if it was the first time someone had told him that. You see, this is the stuff I'm driving at.
More than just humble quotes and ah-shucks attitude though, Durant has inadvertently endeared himself to fans with his simple nature. There was the announcement of his extension over the summer with a simple tweet that became the beacon of hope as LeBron James held a one-hour special. There are things like Durant requesting that little-known teammates Nenad Krstic and Thabo Sefolosha join him on a Sports Illustrated cover because Durant doesn't feel like they get enough attention. And then there are stories like the one I told to start this thing off. They're almost endless honestly.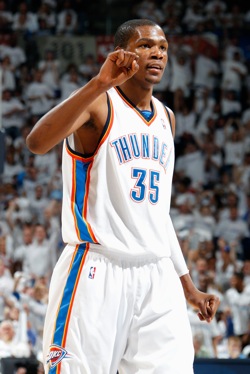 They're stories, however, that Durant actually gets a bit tired of people (like me) repeating every time they talk or write about him.
"Yeah man, sometimes it gets a little annoying," he said. "People make too much of a big deal out of it. Because other guys probably have done the same thing. I'm not the first guy to do things like that. But I'm just being myself."
He's right: It is a little odd how much appreciation there is for Durant's humble attitude and "normal guy" routine. I don't know if it's because it's so refreshing and different than what we've seen in other high profile stars, but when people speak of Durant, it's almost always about what a player he is plus about what a great young man he is. And not always in that order.
But don't think for a second though that Durant's putting on an act. Don't think that his team first talk and low-key demeanor are for show or some clever backwards marketing plan. Because he doesn't want to hear that.
"I think the thing that really upsets me is a lot of people in talking about it too much try to say it was fake," he said. "That's something that I think is BS because I'm just being myself. I'm just doing the things I was taught basically. It is what it is. I've just got to continue to be me and not let anybody change me."
So what's it like being him? Pretty easy, he says. He talks incessantly about the dream he's living and how he never imagined even being in the NBA, much less an All-Star starter in just his fourth season. Maybe that's why he doesn't understand his own starpower – because he's waiting for someone to pinch him.
Durant acknowledged that one of the ways he keeps his head straight is by always realizing there's room to improve and by listening to his critics. Somehow, Durant's 2010-11 campaign has disappointed some. He sizzled in Turkey, scoring nearly a point a minute for Team USA en route to gold an the tournament's MVP. Most figured that he'd build on that momentum and last season's stellar 30.1 point per game effort and roll out something like 32.5 ppg on 50-40-90 percentages and win an MVP. But he's not. He's averaging just 28.9 ppg, is shooting only 47 percent and his team is better than last year.
Expectations are a pain and if you had them too high for Durant before the season, that's your problem, not his. If you're worrying that he's already touched his ceiling, chill. Remember, he's just 22.
And he's not done working. In the 10 minutes I talked to him, he mentioned working hard three times. It's the first thing he said on draft night when he was taken second overall. He's committed to his craft and even after 14-18 performance for 46 points, he says he's goes to bed thinking about those four missed shots.
"I'm always thinking bigger," Durant said. "Of course I'm happy with the progress I'm making. Sometimes I get a little too excited at times but then I need to calm down, but I'm always looking to get better and get bigger, so I can never really get too complacent."
That's who KD is. He's an obsessive compulsive basketballer. Nothing is ever good enough for him. If you set expectations for Durant through the roof, I can promise you, he has them higher for himself. Every shot he misses you can tell, he's just disgusted with himself. That's why we probably haven't even seen what Durant can truly offer yet. Because he doesn't even know. And maybe that's why he doesn't give credence to the superstar tag.
While I was talking to him, I couldn't help but wonder if there'd ever be a point things could change his own opinion of himself. Right now if you ask him who the league's best scorer is, he'd tell you LeBron or Melo. If you ask him who's a better scorer, him or Jimmer Fredette, he takes Jimmer. But what would it take for him to finally join in with the rest of the world and acknowledge that he's awesome?
"I guess I just got to win a championship, I don't know." What about an MVP? Maybe 10 straight scoring titles?

"I guess then you could say that, but right now, I haven't really done too much."
Yeah, he's right. He's just 22. There's still a lot of time left.