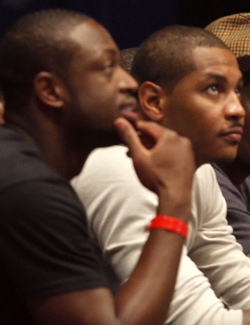 Report: LeBron James, Dwyane Wade, Carmelo Anthony, and Paul Pierce among players expected at CBA talks during All-Star Weekend.
Posted by Matt Moore
Friday in L.A. is going to feature a lot of fireworks. The opening of All-Star activities, the Rookies-Sophomores game, media availability for the All-Star and Saturday Night participants, and the D-League dunk contest. But the high explosives are saved for a boadroom. The much discussed meeting between the owners and the players' representatives will take place that day, and if there was any doubt, it seems that the union will be well represented by those with the most power.
Kobe Bryant
won't be attending the meetings
, but he has made his feeling quite clear to Ken Berger of CBSSports.com in regards to the talks,
firing out explosive words in telling the owners
to "look in the mirror." LeBron James
had already said he planned to be at the meeting
. And as
Berger noted last year
, having the All-Stars present means bringing the big guns of influence. A
report today from Yahoo! Sports
says that is just what will be brought to Friday's meeting.
Pessimistic NBPA expects 12 AllStars (james, wade, melo, pierce) and 20 players to attend labor meetings with owners Friday, source tells Y!
Now, what's interesting is that in these four players, we have an interesting subsect of personal agendas in play. James and Wade represent the max-max players who already have their situations sorted out. They're making near the max (minus a few million to play together) thanks to the biggest free agency period in history facilitated by lax player movement policies. They're superstars who still have several years in the league so their big objective will be to hold off on rollbacks which would influence them.
Melo, of course, has every reason to be in attendance. A new CBA which limits player movement could severely impact his plans for relocation this summer including but not limited to the possibility of a franchise tag. he'll be strongly pulling for as little to change as possible, particularly when it comes to player movement and the cap next year. Melo has as much to lose as any player who will be present at the meetings.
Pierce? Pierce is a statesman. He's on what is likely his last contract, he's already indicated he'd like to play in Europe when he's through. Pierce will be alongside
Derek Fisher
and Bryant's interests in protecting the older players, working to improve pensions and watching out for the total health of the union. Pierce doesn't have a personal agenda to pursue outside of his long-term interests as a player headed towards retirement in the next few years.
Something notable about this? If these superstars are at the forefront, speaking at a meeting which as Bryant points out, is "for the lawyers," and they have the most influence, who exactly is going to be the one advocating for the revenue sharing the union has put as such a vital component? LeBron James, who left the Cavs in ruins for a nice climate in a bigger market? Paul Pierce, an L.A. kid who spent his entire career in Boston? Carmelo Anthony who is currently working to escape to New York? I'm sure Derek Fisher and Billy Hunter will be pursuing that inititiative as it benefits
all
the players as a whole. But if we're talking individual personalities involved in these meetings, I'm not finding anyone who's exactly going to be sticking up for the need for small markets to be able to compete for player salaries, even if it's only to further the ability for non-mega-market starts to get big paydays.
And while the superstars have just as much reason to support initiatives that would protect their less-talented/less-compensated brethren, with those stars likely to be some of the loudest voices, the minimum veterans, aspiring young players, and fringe members are forced to put their trust in the All-Stars to watch out for them in the talks.
The union has held a united front until now and seems to have its ducks in a row. But look at that list of players involved.
That's a lot of ego in one room, and that's before we even get to the owners.