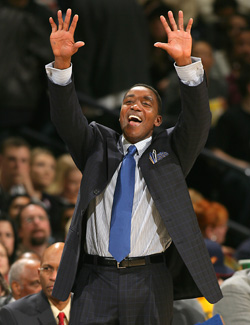 Posted by Royce Young
As Ken Berger reported Wednesday, there more be more complication the Knicks acquiring Carmelo Anthony than just coming to terms with the Nuggets. New York might have to come to terms with its own front office first.
Berger noted that there's some potential dissention between president Donnie Walsh and owner James Dolan to the point where Dolan may try and go over Walsh's head to get Anthony now while Walsh may prefer to hold out for free agency. And one of the people Berger noted that might just be involved is Dolan's buddy Isiah Thomas.
Berger writes, "Thomas still has Dolan's ear, is as power-hungry as ever and would love nothing more than being able to paint himself as the savior in New York. Even if it meant undercutting the man who saved his career in Indiana and who treated him with dignity and respect upon replacing him with the Knicks."
And now according to the New York Post, Thomas went on radio in Miami Tuesday and didn't deny any of the things Berger pointed out. Thomas didn't deny that he's advising Dolan on moves the Knicks should make, especially when it comes to landing Melo.
This whole thing makes me feel uncomfortable. First there was the effort over the summer with the Knicks trying to hire Thomas as an advisor, only for the league to determine it wasn't proper because of Thomas being a college basketball coach. Except he's still advising . He might not be doing it in an official capacity, but like Berger said, he still has Dolan's ear.
Thomas said on the radio show: "Everyone agrees they need to keep improving to get to a championship level. I don't think anyone's saying this is it. I do think the organization wants to improve to get better and get to the next to level. But for me to speculate on this Carmelo situation, I just don't think it would be proper to insert myself in such a public way knowing what I know. ... In order to get to a championship level, which every team aspires to get to, you try to get the best players and try to get as many as you possibly can and see if you can win it."
Isiah wouldn't go on record as to what he's doing precisely and wouldn't comment on if he'd ever return to the organization at some point.
"You ask me to be as honest as I can and I will be brutally honest with you," Thomas said. "I don't think anyone will say where they will be five years from now. But where ever I am in five years, I will be physically and emotionally prepared for whatever challenge is presented to me."
The whole Isiah Thomas situation in New York is really one of the weirdest things ever. The Knicks are just now finally recovering from Thomas's frivolous and wild spending, as Walsh has worked extremely hard to even give the Knicks an opportunity to land Melo in free agency. If Isiah were still in charge, New York wouldn't have had the chance at
Amar'e Stoudemire
, much less Anthony.