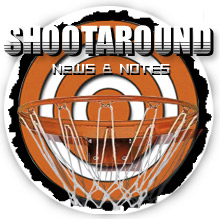 Are the Knicks and Hawks developing a rivalry? That plus Redd returns, revenue sharing, and it's good the Clippers suck.
Posted by Matt Moore
David Stern did an interview with Bloomberg TV, and a
Thunder
blogger
breaks down his thoughts on the labor issues
bit by little bit.
Caron Butler
isn't stressing the trade deadline
, and thinks he'll even be re-signed this summer.
Michael Redd
is
returning to practice Monday
. Just in time for the trade deadline! Whee!
Is the
Lakers
' TV deal going to be
the tipping point in revenue sharing talks
?
Rudy Gay
suffered a strained shoulder
in the
Grizzlies
' win over the Sixers Tuesday night.
Are the Clippers'
recent struggles actually a good thing
, preventing them from making a short-term move?
Isiah Thomas
endorses the prospective
new
Pistons
owner.
We may have ourselves a Knicks-Hawks
rivalry quietly budding
.
Who could the
Magic
move at the deadline
?
NBA players reflect on the
best players they knew who never made it
.