The Dallas Mavericks are reportedly an "amenable" destination to Denver Nuggets forward Carmelo Anthony. Posted by Ben Golliver.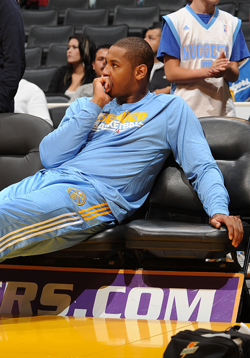 On Monday
, we noted that Nuggets All-Star forward Carmelo Anthony could be traded in a "rental" scenario, should Denver be unable to convince him to sign an extension or agree to an extend-and-trade. We noted that Anthony didn't seem particularly keen on the Houston
Rockets
but that the Dallas Mavericks often get mentioned as potential rental suitors as well.
Newsday reports on Tuesday
that there may be mutual interest between Anthony and the Mavericks.
"A source with knowledge of the situation said the biggest -- and perhaps last -- remaining threat to the Knicks could be the Dallas Mavericks. Though Mark Cuban hinted recently that he would be willing to trade for a superstar without an extension, the source said Anthony would be amenable to signing an extension with the Mavs, who are already a championship contender and yet have a huge hole at small forward after the injury to Caron Butler.
"The only way Melo doesn't come to New York is if [Mark] Cuban makes a play," that source said. The main issue, however, is that Dallas has even less to offer the Nuggets than the Knicks. The Mavs are searching for a third team to help them, with Roddy Beaubois, who has just returned from injury, as bait. But a source with knowledge of the Mavericks' thinking said he'd "be shocked if [Carmelo] came" to Dallas, but did say Cuban is unpredictable. But Beaubois, the source said, has been deemed untouchable.
Back in December,
CBSSports.com's Ken Berger noted
that the Mavericks were considering a push for Anthony.
Obtaining Anthony would be a dream scenario for the Mavericks, as he would plug their biggest hole to complete what would become the best frontline in the Western Conference. But how often do dream scenarios ever come true in the NBA?
Newsday also notes that talks between Denver and New York will continue over the All-Star weekend and that the two sides have "set parameters" on a potential deal.
In other recent Anthony news, the Knicks
reportedly turned down
one Nuggets trade proposal and a rival GM said Tuesday night that the Anthony talks have
impacted other ongoing trade discussions
by dragging on for so long.