Posted by Royce Young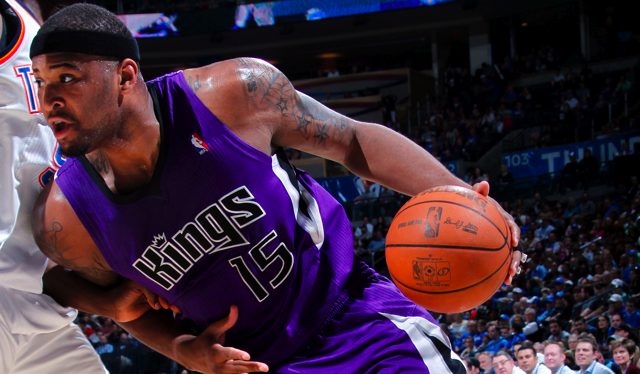 OKLAHOMA CITY -- As the
Thunder
and
Kings
got set to tip, the popular arena anthem "Zombie Nation" blared throughout Oklahoma City Arena.
Donte Greene
went wild on the Sacramento bench, busting out some sort of Russian high step dance.
Sitting right in front, totally hamming it up as Greene grooved?
DeMarcus Cousins
, who of course had an altercation with Greene in the locker room following a close 99-97 loss to the Thunder just a few days ago.
Cousins was deemed "inactive" for the Kings last game, a win at Phoenix, and was fined one game's pay for the incident. With eyes locked on him and how he'd react to his first action since the locker room dust-up, Cousins, and the rest of the team, appeared to have everything behind them.
"To be honest, it wasn't as big as people made it out to be," Cousins said. "I mean, teams do that. I mean, when it's a team sport, you're going to have disagreements because it's five opinions trying to get along. But they made it bigger than it is. It's really not an issue. There's no beef, there's none of that. We're fine."
Cousins apologized and took responsibility for what happened last Saturday saying in a statement, "I wish to apologize to my teammates, the Kings' organization and Kings fans for my role in an unfortunate altercation between teammates. I accept full responsibility for my actions and know that I must keep raising my standard of professionalism to be my best and a great player in the NBA."
Obviously those are just words and for Cousins to really move past this, it was going to start in Oklahoma City.
His team got completely rolled by the Thunder 126-96, falling by 17-4 within minutes. Cousins, who is typically a starter, began the game on the bench but checked in quickly with 7:22 left in the first quarter. The Kings never caught up, getting only as close as 15 to the Thunder, but Cousins turned in a nice performance regardless. The rookie finished with 21 points and 13 rebounds in 29 minutes.
"I came in and didn't get a chance to shots up over that little break, but really tried to get my shot going in the warm-ups, but it wasn't falling tonight. Overall though I kind of got in my groove," Cousins said. "To be honest, I really just wanted to win. I really wasn't concerned about my performance. I wanted to really come out and get a win. That's what we're here to do."
With Cousins, he's no headcase. He's a young player that might have some maturity issues. He's learned not just how to play professional basketball, but how to
be a professional.
It's something that not every rookie picks up on right away.
I think there will be an assumption that maybe this is a turning point for Cousins. He entered the league with a potential problem stamp and after being kicked out of a few practices by coach Paul Westphal combined with the Greene incident, he's had a rocky rookie campaign. However, with the not-a-suspension inactive punishment and then Tuesday's response, maybe it's a step forward.
"Hopefully," he said. "I believe I was taking steps forward before the incident happened. But, you could say I took steps back. And that can happen. But I'm just going to continue to progress."