Golden State Warriors GM Larry Riley says this year's trade chatter lacks substance. Posted by Ben Golliver.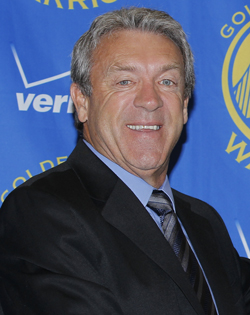 Earlier Tuesday
, we noted statements made by Portland
Trail Blazers
GM Rich Cho, who said that he feels trade talks are being held up by the uncertainty surrounding Denver
Nuggets
All-Star forward
Carmelo Anthony
and that things likely wouldn't pick up until next week.
Also on Tuesday, Golden State Warriors GM Larry Riley sang the same tune,
telling the Mercury News
that this year's trading season has been a lot of hot air so far.
"There's a lot of chatter, but not a lot of substance to the chatter ... And it seems that a lot of teams actually positioned themselves last summer to get ready for what's going on right now. So then there's some reluctance to move away from the plans they put into place at that time. ... Now, things will Heat up. As people get closer to the deadline, deadlines tend to draw people out."
Also of note, Riley said that interest in expiring contracts this year appears to have wained.
"If you look at what has been done—Toronto acquires Peja Stojakovic and then apparently saw no value in having him as an expiring contract. And that philosophy looks to be in place with a lot of teams."
Aside from
some foolish, back-tracked hypoethetical chatter
regarding
Stephen Curry
and
Monta Ellis
from their new owner, the Warriors haven't found themselves in many trade rumors this year.
With a 24-29 record as of Tuesday night, Golden State's chance of making a playoff push in the jam-packed Western Conference are remote. Taking on additional salary heading into a potential lockout would seem to be a risky proposition for any team, and the Warriors have already locked themselves into long-term deals for Ellis,
David Lee
and Andris Biederins, so any flexibility they can create will be at a premium.
Given that the Warriors are currently over the cap and have two sizeable contracts coming off their books this summer -Vladimir Radmanovic and
Dan Gadzuric
- they might be best served to simply wait things out prior to the deadline, opting to enjoy that salary cap relief themselves and test their luck in the NBA Draft Lottery.