Miami Heat forward Chris Bosh is set to make his return to Toronto and he has a message for Raptors fans. Posted by Ben Golliver.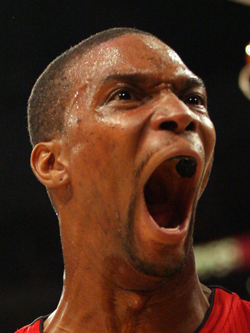 On Wednesday night, the Miami Heat are set to make their first appearance in Toronto since former Raptors Chris Bosh joined Miami last summer. While Bosh's return to Toronto won't draw
the same headlines
as Heat forward
LeBron James
' return to Cleveland, he still figures to get a frosty reception from angry, spurned Raptors fans.
The Palm Beach Post reports
that Bosh is looking forward to getting it over with, but he does have a straightforward message for fans in Toronto.
"I'm as ready as I'll ever be," Bosh said. "So bring it on."
Bosh's "bring it on" attitude would seem to be a tad inflammatory out of context, but Bosh has been totally consistent in keeping his comments about his former franchise above-board and he's smart enough to realize he's going to get booed no matter what. (Also, the Heat are fairly used to road hate by this point.) As such, this feels more like "I know it's coming so let's get it over with" take from Bosh rather than a "you minions can't faze me because I'm so great."
All in all, Bosh sounds at peace with his decision to team up with James and
Dwyane Wade
, telling the
Post
that he is free of regrets.
"I don't regret anything because, at the end of the day, I've never said anything bad about the city or the organization, and I've never felt bad about it," Bosh said. "Sometimes there's no good way to separate or move on, but you just have to put the past behind you."
One thing is for sure: Bosh need not regret his decision given how things have played out on the court. As of Tuesday night, the Heat are 39-15, tops in the Southeast Division, while the Raptors are in the Atlantic Division's basement with a record of 15-40.