Who are the contenders and pretenders in the NBA's Western Conference? Posted by Ben Golliver.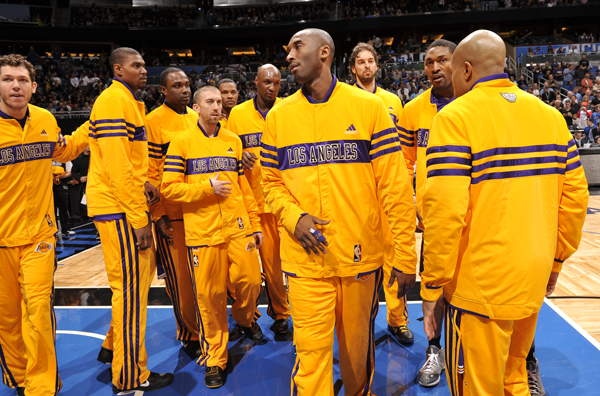 Before we get to the list of Western Conference contenders and pretenders, check out Adam Aizer, Greg Urbano and I as we discuss the most underrated and overrated teams in the NBA and more in our weekly CBSSports.com NBA podcast:
CONTENDERS
Los Angeles Lakers
: Loads of experience, high-end talent, top-notch coaching, size and length, defensive versatility and arguably the best one-on-one player in the game. If that's not a championship-contending package I don't know what is.
Throw in the extra confidence boost that comes with being the two-time defending champs, and you're looking at a team that can pencil its way into the Western Conference Finals, at the very least. Sure, there are questions:
Andrew Bynum
's health,
Derek Fisher
's age and
Steve Blake
's facial hair, among others. But L.A.'s core of
Kobe Bryant
,
Pau Gasol
and
Lamar Odom
– flanked by Bynum,
Ron Artest
and the other role players – is balanced and lethal, posing match-up concerns for everyone except, maybe, the Boston
Celtics
. Bet against the Lakers in Phil Jackson's swan song season at your own risk.
San Antonio Spurs
: Owners of the league's best record, the ageless Spurs are perhaps the most Spurs-like rendition of themselves that we've seen.
The three-man core of
Tim Duncan
,
Tony Parker
and
Manu Ginobili
is still intact, but it has shifted focus seamlessly to a guard-dominated attack, with Duncan getting his fair share of rest throughout the regular season. To beat the Spurs you need to be disciplined, intelligent on defense and able to score from both inside and outside on a consistent basis. That's asking a lot, and none of the fringe playoff teams seem likely to rise to that challenge.
The question, as always, is whether San Antonio's role players will be up to the challenge when the bright lights turn on. They haven't faltered yet this season and no one has devised a clear gameplan for how to exploit them. If the Spurs are to be beaten, it will happen in the paint and on the boards, where Duncan and undersized
DeJuan Blair
might not be able to keep pace against more imposing frontlines over a seven-game series.
Dallas Mavericks
: If you haven't figured it out yet, those who have been there and done that before get an extra boost in my eyes when it comes to the Western Conference.
Dirk Nowitzki
,
Jason Terry
,
Jason Kidd
and
Shawn Marion
have been through plenty of fires and don't figure to be knocked off this year by an upstart.
Tyson Chandler
's presence in the middle has also been huge, leaving wing scoring as the biggest question mark after forward
Caron Butler
went down with a serious knee injury. Butler has been making noise about trying to return for the playoffs and the Mavericks have popped up in their fair share of pre-deadline trade rumors. As currently constructed, the Mavericks will be a tough, tough out. Should they make a move in the next two weeks, a run to the Finals isn't out of the question.
PRETENDERS
Oklahoma City Thunder
: The Thunder feels like the only legit wild card in the Western Conference, as top-5 NBA player
Kevin Durant
and top-10 NBA player
Russell Westbrook
look to get over the hump and win a playoff series, where other up-and-comers have failed in recent years.
The issue all season has been defensive efficiency, a huge problem in the slow-it-down, grind-it-out, physical playoffs, when stops are at a huge premium and the shootouts stop after the first round. The Thunder's solid frontcourt players –
Jeff Green
,
Nick Collison
,
Serge Ibaka
– are guys that you like, want to love, but don't totally trust when the money is on the line. More often than not during the playoffs, Thunder fans will be left hoping those guys play above their heads to keep a match-up even rather than forcing or exploiting a mismatch against the opposition. The good news: to make the jump to contender, the Thunder only need to get older.
Denver Nuggets
: Denver's season got hijacked by
Carmelo Anthony
, but the Nuggets weren't going anywhere anyway, even if their All-Star forward had agreed to sign an extension last summer.
The Nuggets qualify as pretenders because there's a decent chance Anthony is moved prior to the deadline – thereby torpedoing their chances – and because they're a year older without improving on last year's team, which got bounced in the first round. They've been healthier in recent months and have played some nice ball – but the consistency has been lacking. Their backcourt is just not talented enough; their frontcourt is just not long and versatile enough. If Anthony stays, and given the right match-up, they could win a series. That's it.
New Orleans Hornets
: The Hornets came flying out of the gates, starting the season 11-1, only to fall ahrd off of that pace, managing to play just .500 ball over the last 44 games.
This team is still a better than average group, but better than average isn't good enough to truly contend in the Western Conference. Chris Paul has returned to MVP-like form and
David West
's numbers are right there with the elite power forwards in the West, but we've learned over and over that two All-Star quality players surrounded by parts won't get it done in the playoffs. The additions of
Jarrett Jack
and
Trevor Ariza
added some headiness and athleticism but they weren't season-changers, and the Hornets bench is tough on the eyes. Throw in first-year coach Monty Williams, who has never dealt with game-planning for a seven-game series, and there's more questions than answers with this team, rendering them a pretender.