Posted by Royce Young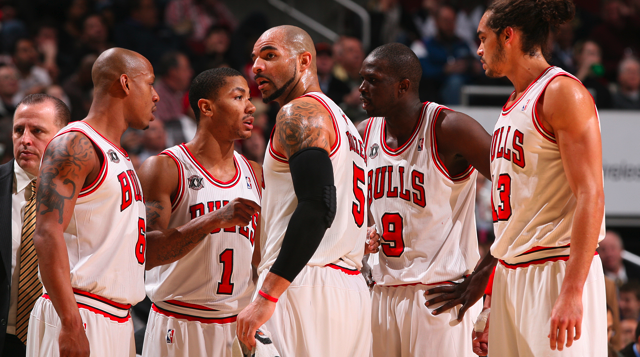 Before we get to our list of Eastern Conference contenders and pretenders, check out Adam Aizer, Greg Urban, and Ben Golliver as they discuss the most underrated and overrated teams in the NBA and more in our weekly CBSSports.com NBA podcast:
In the Eastern Conference where the
Raptors
and
Cavaliers
are both five-game winning streaks from getting back into the playoff discussion, pretenders and contenders are a bit complicated.
The top of the East is clear cut. The bottom half, not so much. But what's interesting is what is stuck in the middle. Who's really contending and who's pretending in the East? Here are three for each.
CONTENDERS
Boston Celtics:
They're tested. They're talented. They're just plain good.
The way the Celtics beat you is what makes them so dangerous. They defend, they rebound, the score in crunch time... they don't have a glaring weakness. Their bench is one of the very strongest in the league and with four proven stars, you can't say they're really missing anything.
Plus, this team hasn't gotten healthy yet.
Shaquille O'Neal
-- who has been really good this season -- has been out. Same with
Jermaine O'Neal
(except for the really good part). They just got
Kendrick Perkins
back but
Marquis Daniels
is now down for a month.
On one side, that's what makes the Celtics even scarier than they already are. We haven't seen them at full power yet. Then again, it's what makes them vulnerable. One wrong step for
Kevin Garnett
and this team might be an easy out in the first round of the playoffs. That's not to say they're not deep, because they are. But what makes them the best team in the East is something they can't afford to lose.
But in terms of defining who will be there when the dust clears, the Celtics are the leader in the clubhouse.
Chicago Bulls:
I truly believe the Bulls are the true challenger to the Celtics in the East. They aren't as talented as the
Heat
, but the Bulls have a complete package.
They have the creator/scorer in
Derrick Rose
. They have the low post reliable scorer in
Carlos Boozer
. And they have a rebounding defensive force in
Joakim Noah
. Where they might lack is some of the supporting cast, but
Luol Deng
and
Ronnie Brewer
have been solid, plus you can't go wrong with having
Kurt Thomas
on the team.
In a seven-game series, the Bulls have a roster that other teams will fear. I mean look at them right now. They're No. 3 in the East and they haven't even played a week with their full compliment of talent. That's scary. Tom Thibodeau's defensive system was no joke. The Bulls are guarding as well as anyone in the league and again, they have go-to options for points. It does feel like they're missing one small thing, even if it's hard to put a finger on, but this team is legit. They will be a major threat come May.
Miami Heat:
Truthfully? The Heat aren't far off from being in the "pretenders" section. That sounds crazy, yes, but in a seven-game series against the best teams in the East, can you really see the Heat getting through Orlando, Chicago and Boston all in a row if things fell that way? That's kind of hard for me to picture honestly.
Against the top five teams in the league, the Heat are just 1-5. They lose a lot of close games. They break down sometimes in the fourth quarter and fall into a completely stagnant, only isolation offense. They have obvious weanesses.
However,
Dwyane Wade
,
LeBron James
,
Chris Bosh
. That's a pretty good counter to all those points. Talent wins in most cases and the Heat have the most.
We all see it coming though. In order for this team to get over the hill against the Celtics, someone is going to have to pretend he's
Robert Horry
and hit a big shot. Sunday,
Mike Miller
had the opportunity. The right play was executed, the right shot was taken. He just missed it. Now what happens in Game 5 of the Eastern Conference Finals? Can Miller make that shot? More than likely, if Miami is a contender or pretender ironically rides more on that than anything else.
PRETENDERS
Orlando Magic:
The Magic just aren't there. The trade was nice. It improved them. It really did. But they just aren't there. I've watched them lose too many close games because of a fourth quarter meltdown offensively.
Dwight Howard
just isn't Shaq. He can't be fed in the post for 42 minutes and score 60 percent of the time. I think the Magic thought that was going to happen, but it's just not.
When they realized that, they tried to go find a couple better scorers and creators to take pressure off. Enter
Gilbert Arenas
,
Hedo Turkoglu
and
Jason Richardson
. All very good players. But to this point, all underachieving. Or maybe they just aren't what we thought they were.
Turkoglu has his moments, but he's inconsistent. Arenas just isn't himself and might not ever be again. And Richardson has become too much of a 3-point specialist instead of a scorer.
Orlando is a good team and will finish with 50 wins. But depending on their first-round matchup, they might not even see the month of May.

Atlanta Hawks:
Look over the Hawks roster for 10 minutes. Give it a good, long look. What do they need to change? Where do they need to get better?
A lot of teams feel like they're just a player away, but in Atlanta, is it actually possible that the players they have just might not be good enough? Maybe they're five players away.
Al Horford
is very good. He's a championship caliber player.
Josh Smith
, excellent. But he's not good enough to be as featured as he is. And
Joe Johnson
. Great player, but as we all saw last playoffs against Orlando, he might not be a postseason winner.
The clear-cut weak point is
Mike Bibby
at point, but right now, how can Atlanta do any better?
Jeff Teague
isn't ready and there's not an option out there that's really that much of an upgrade.
Andre Miller
would be a really nice fit, but again, is that enough to make Atlanta an Eastern Conference Final contender? I don't think so.
New York Knicks:
Why are the Knicks on this list? Because who else do you put here? The
Pacers
?
Bobcats
? Sixers? So by default, the Knicks go here. That's the current Knicks I mean. Not the Knicks post-deadline.
Because here's the catch though: The Knicks are likely going to be adding a player at the deadline. And if that player is on the team, then there's a new question about the Knicks. If
Carmelo Anthony
joins the team and combines with
Amar'e Stoudemire
,
Raymond Felton
and whoever is left, are the Knicks good enough to compete?
Still no, actually. They will be better. They will be a team that is entirely capable of winning a playoff series. They will be dangerous to someone. I could see them really giving a team like the Bulls fits in a second-round matchup. But even with Carmelo, the Knicks just aren't ready.