The Boston Celtics defeated the Miami Heat, 85-82, in Boston, improving to 3-0 in the head-to-head match-up this season. Posted by Ben Golliver.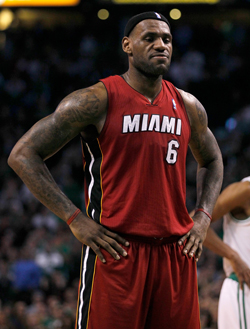 Just when the Miami Heat thought they were on to something, on an eight-game winning streak and poised to take over control of the Eastern Conference, the Boston Celtics emerged again on Sunday to remind them of their place in the pecking order.
Sunday's 85-82 Celtics victory wasn't an aesthetically pleasing win, but the Celtics have never cared about style points. Even with forward
Paul Pierce
having his worst game of the year -- shooting 0 for 10 from the field and scoring one point -- Boston rolled thanks to its depth, defensive prowess, and a third quarter surge that provided just enough offense to hold on down the stretch.
Trailing 43-39 at halftime, the Celtics went on a 20-3 over the first 5:15 of the third quarter. Celtics point guard
Rajon Rondo
scored seven points in the stretch and set up center
Kendrick Perkins
on a basket as well. As Boston extended its lead to double-digits, a grinding game turned chippy when Heat center
Zydrunas Ilgauskas
leveled Rondo with a pick as he was harrassing Heat forward
LeBron James
in the open court.
That play was followed in short order by Celtics forward
Kevin Garnett
returning the favor, dropping Heat forward
Mike Miller
with a hard pick on the next possession. Within seconds, Heat guard
Dwyane Wade
body-checked Garnett in retaliation, drawing a flagrant foul in the process.
Here's a look at the exchange.
The Heat didn't allow that tiff to overwhelm them mentally, though. They battled back in the fourth quarter to cut Boston's lead to single digits and, then, to within one point, 83-82, with 12 seconds left. Miami had the chance to tie the game, but LeBron James missed the front end of a pair of free throws after drawing a late-game foul on Pierce.
Despite that miss, Miami was in position to send the game into overtime, down three with the ball and seconds to play.
Miami drew up an inbounds play which found James receive the entry pass, pass up the opportunity to shoot a contested three-pointer over Pierce, and then return the ball to the inbounder, Miller, who missed a clean look at a potentially game-tying three-pointer. The miss meant that Miller finished 1-5 on the day from behind the three-point line.
Here's a look at the final play.
Miami's Big 3 of James, Wade and
Chris Bosh
accounted for 62 of the Heat's 82 points, with no other Heat player managing double figures. The Heat were led by 24 points from Bosh and 22 from James.
Boston, meanwhile, had six players in double figures -- even with the no-show from Pierce -- and the Celtics bench out-scored the Heat's 26-8. The Celtics were led by 19 points from Kevin Garnett and 16 points from
Glen Davis
.
The scoring balance and bench scoring numbers only reinforce the sentiment that Boston is an impossible obstacle for Miami, as currently constructed, to overcome. Boston has now beaten Miami both in shoot-outs and in a grinder, able to ratchet up the defensive intensity to put things away seemingly at will. Miami's fourth-quarter resolve made it clear that they aren't intimidated by Boston and are likely capable of taking a game or two in a playoff series, but the Celtics' intensity and cohesion, led by the orchestration of Rondo, who finished with a triple-double (11 points, 10 rebounds, 10 assists), make it very difficult to envision Miami giving Boston a true test come playoff time.
When these teams met back in October, it was clear that Boston was a notch better than the upstarts. Now it's February, and it doesn't appear that much has changed.