Five keys for Boston and Miami as the Celtics and Heat meet Sunday for the third time this season. Is this a must-win for Miami, even in February?
Posted by Matt Moore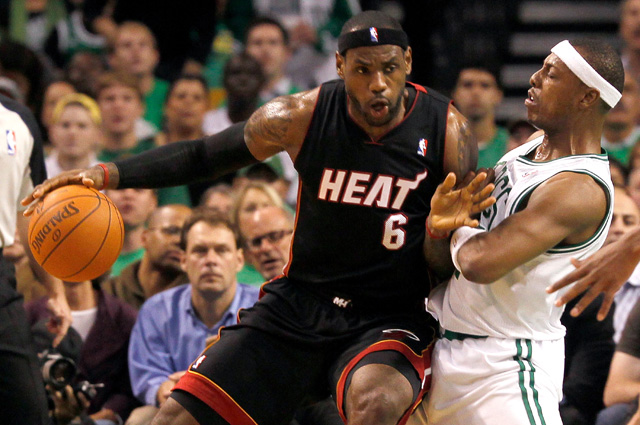 Allright, Miami. We're going to give you one last shot at this to show us you have anything interesting to bring to the matchup against the Boston Celtics before we start tracing over our penciling in of the Celtics for the Finals. In the first two meetings between the two best teams in the East, the Heat were dispatched. Both games featured moderately significant leads for the Celtics late, runs by Miami to keep the television audience slightly interested, then workman-like elimination stretches from Boston to close things out. If the Heat want to showcase anything towards the notion that they are anything more than a cupcake-devouring regular season team, this is the time to prove it. Their showcase wins over the
Lakers
and
Magic
in the past month and a half will mean very little if the Celtics were to run up a 3-0 season series advantage.
There's no such thing as a must-win game for an NBA title contender in February. But this is about as close as it gets.
And with that, here are five keys to Boston and five keys to Miami for Sunday's afternoon delight between the Heat and the Celtics.
Boston Celtics

1. A Pointed Exchange
Rajon Rondo
isn't just the best point guard on the floor, he is arguably the third best overall player in this matchup. He's certainly made a strong case for that element in the first two games against Miami. Rondo has 33 assists and just six turnovers against the Heat this season. I'll let you soak in that stew of incredible for a moment. 33 assists. Six turnovers. Even more incredible, though, is that his games could have been a lot stronger offensively. Rondo is just 5-17 from the field in this season series, for a grand total of 12 points. Rondo's clearly shown he doesn't have to score in order to be a huge advantage for the Celtics, but if he brings his brilliant playmaking
and
finds his mid-range or floater falling? This thing could get out of hand before half. Matched up against either
Mario Chalmers
or
Carlos Arroyo
, Rondo is able to out-class whatever the Heat want to throw at him, and he's even got the speed and ability to take
Dwyane Wade
or
LeBron James
to the cleaners. The big key for Rondo is to stay aggressive and focused. When he's zoned in, the Heat simply don't have the personnel to counter him.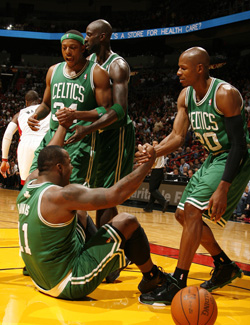 2. Baby You Got What I Need
Glen Davis
has never lost a regular season game to the Miami Heat.
True story
. He's 9-0 all-time agains the Heat, and while some of that is an anomaly, some of it isn't, and he's been a big factor this year against the Triad. Davis is the unofficial league-leader in charges-drawn and has made some big ones against LeBron James. The Celtics' ability to close on James not at the point of attack on the perimeter, where his size and athleticism allows him to either bust the double or pass to a cutter, but at the bucket, has frustrated James time and time again throughout the years. While Davis' blubbery reverse, tilt-a-whirl mid-range and fiercely wild, yet consistent putbacks are helpful, it's this awareness on the defensive end and his willingness to sacrifice his body to an oncoming L-Train that really makes him a difference-maker in this matchup. With a shortened bench likely for this game, expect Davis' presence to be felt early and often.
3. In Your Head, Zombie
Kevin Garnett
's cute little antics can get in the heads of some, but he hasn't really whipped out the special effects in the first two meetings. His game has raged from strong but shakey in the first meeting (10 points, 7 turnovers) to strong (16 points, 13 rebounds) in the second. But he hasn't really had any key moment of conflict, which is surprising, considering how much of a target you'd expect
Chris Bosh
to be for Garnett's jawing and snapping. Garnett did shut down Bosh in the season opener, but he recovered for the second. You'd think that given how emotional Garnett has played lately, this game would be ripe for a fake-fight from the former MVP. At the same time, Doc Rivers,
Paul Pierce
, and
Ray Allen
need to make sure Garnett doesn't go too far. He's been pressing his luck further and further with officials lately, and they can't afford to lose him to an ejection, not with how short the bench is. Speaking of...
4. Protect and Serve
The biggest key for this game for Boston? Don't get injured. That's the really important message. They've already won two impressive games against Miami, they're short-handed, it's February, they're in a bit of a slump, and it's an early-start game. While a nice, comfortable victory on the back of great shooting would be rewarding, and sending an even more dominant message would do the Celtics good, the goal for the Celtics now is to get to the Finals healthy.
5. The Kobe Treatment on LeBron
The same formula that worked in the first two games should work again. Let James score all the points he wants, but make life a living hell for Dwyane Wade and the Heat shooters. Do that, and they become as one-dimensional as the Cavs were. It's only when the cylinders get going on all three members of the Triad and then the perimeter rotations start freeing up threes for the lesser guards that the Heat become a really effective unit. As long as James is being tempted into ISO situations, the Celtics can close, harass, and limit James' domination. It's fine if he gets ridiculous numbers as long as the rest of the team struggles. Worked before, it'll work again.
Miami Heat
1. Try, Try, Try Again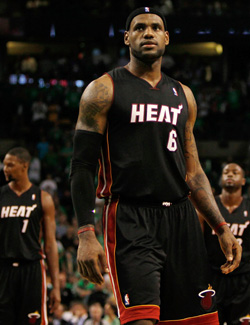 It sounds simple, but if the Heat want to walk away with their first win over the Green since forming this little group of Super-Friends, they need to give more effort. Boston's defensive unit is yet again the most feared in the league and a huge reason for why the Heat's focus seemed to go in a thresher in October and November's games. However, there was a clear lackadasical element to the Heat's body language in those games that seemed to indicate they simply weren't dialed into these games. Against the Celtics! It should have been Boston who wasn't committed to winning a meaningless regular season game, acting as if they didn't care about such games. But instead Boston brought its A-Game and the Heat seemed content to lay down and watch them take it from them. Needless to say, the same kind of intensity from Miami on Sunday will ruin any chance they have. The Celtics are tired, worn-down, injured, and know this game means nothing for them. Yet they will still bring their focus and be ready to capitalize unless the Heat give them a reason to quit.
2. The D-Rated Superstar
Dwyane Wade has been terrible against Boston this season. He has shot 6-28 from the field for 21 points, with 9 assists and 12 turnovers. Those are "OMG" bad numbers. Wade is an elite player and it's his ability to finish at the rim that can rack up fouls for Boston and force them to bring doubles. If they're able to simply rotate like they usually do, the Heat shooters will face contested shots, which will pile up the misses. James has brought it the first two games, it's time for Wade to step up and join him. There's no reason to think they can count on the rest of the Heat to step up against the Celtics so the two best players on the team have to set the example. Wade has had a great season, but really been shut down against Boston. That can't happen Sunday or the Heat is sunk.
3. Do-Run-Run-Run, Do-Run-Run
The Celtics don't like running teams. They still usually beat them, but they have issues with them,
as we've pointed out in the past
. A shortened rotation due to injury is only going to exacerbate that problem. Likewise, the Heat are at their best when they're out in transition, using the talents of James, Wade, and Bosh in space. Against the Celtics this season, the Heat actually have fewer transition plays than the Celtics, (27-25, via Synergy Sports). The Celtics do a good job of getting back immediately in transition and attacking the ball to stop it. The Heat need to be insistent in pushing, and trusting that their athletes can make things happen. If they turn the ball over, so be it. But a higher pace game favors the Heat, even as the two teams are even in
pace this season at 92.8
.
4. Desperately Seeking X
The Heat need an X-Factor. Someone to step up and put some points on the board, make a few defensive plays, create some steals, something.
Udonis Haslem
was that player in the first two games, but since he's out, someone will have to step up. If either Mario Chalmers,
James Jones
, or
Eddie House
can make a significant set of plays to cap off Heat runs, they may be able to get some damage done against Boston. They'll have their opportunities. The Celtics won't over-double and will run off three-pointers, but they're also unlikely to kill themselves to contest shots they're willing to live with. The Heat have to be ready to step up in those situations. It won't take a cohesive effort from all of the role players, but someone is going to need to give them something surprising.
5. A Step in the Right Direction
The Heat can't convert anyone about their prospects in the playoffs on Sunday. Not really. But they can make a good step in that direction. The Celtics will brush off a loss by saying they'll get it done when it counts. Miami does not have that luxury, but they still need to get some level of confidence. A loss means they were beaten in three straight by Boston, with their last matchup coming in rest-up time just days before the playoffs in April. This is their best and last shot to show they can go toe to toe with Boston, even if it's an injured Celtics team. They need to get outside the hype they brought with them this season, the injuries they've dealt with, and the newness of this team. If they want to feel confident in any way, shape, or form for a possible Eastern Conference Finals matchup with the Boston Celtics, they have to start by winning in Boston Sunday.