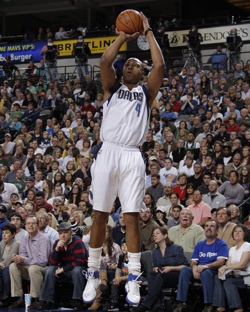 Posted by Royce Young
Most contending teams are looking to make a deal soon that will strenghten their team for a strong push into the postseason. But the Dallas
Mavericks
might not even have to make a move to get that added weapon.
Caron Butler
has been optimistic about returning to the floor for the Mavs for the playoffs and reiterated that point again Friday.
"I'm doing great. I'm healing up well," Butler told
Galloway & Company on ESPN 103.3
in Dallas. "My target is still the playoffs. It's something that I'm totally capable of doing. ... I'm responding well and having no setbacks."
Butler of course is expected to miss the remainder of the regular season after rupturing his right patellar tendon on Jan. 1. The Mavs have come back after really struggling intially after Butler and
Dirk Nowitzki
's injury. They lost Thursday in Denver, but before that had ripped off 10 straight.
Part of Butler's motivation -- other than getting back to help the Mavs make a title push -- is that this is a contract year for him. If he could get back and show that he's fully healed and playing well, it could also help his pocketbook too.
Is it reasonable? Absolutely. The expected length Butler was set to be out was termed 4-6 months. The playoffs will start at the end of April. That would be right around four months since the injury and surgery.
Of course that might be rushing it a bit and certainly a risk. But it's something Butler is probably willing to do, again, with this being a contract year. As he said, his rehab is going well and he's feeling solid. There shouldn't be a reason for him not to come back. I'm sure the Mavericks would be excited to have him back just in time to play their biggest games of the season.