Miami Heat forward LeBron James defended his mother from trash talk during a Friday night game against the Detroit Pistons. Posted by Ben Golliver.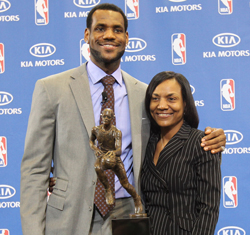 Detroit, Michigan, is a tough, grimy city plagued by endless winters, ridiculous unemployment rates and the dysfunctional Pistons, who are currently an embarrassment. So when the white-sand, red-hot Miami Heat and superstar forward LeBron James come to town, a little resentment is to be expected.
Unfortunately,
the Sun-Sentinel reports
that one fan got a little too personal in his heckling of James.
LeBron James made a personal plea to a taunting fan for decorum during the first quarter of Friday's game against the Detroit Pistons at the Palace of Auburn Hills.
"You can say whatever you want to me, just don't get disrespectful," James said in a measured tone to the fan, leaning over the scorers' table, in front of Heat broadcaster Eric Reid.

The fan had heckled James about his mother, using a Valentine's Day reference. James waited for a stoppage in play, making his request as teammate James Jones prepared to shoot free throws.
No question: heckling someone "using a Valentine's Day reference" could get out of control pretty quickly, and it likely wasn't delivered in the romantic spirit the holiday is known for. James has every reason to aggressively defend his mother's honor, after vicious rumors about her spread across the internet during last year's playoffs.
This season, James has fed off the hate sent his way by opposing fans, embracing the vilain role as he gets booed in virtually every arena he plays in. James is correct here, though, there should be limits. The NBA, just like everywhere else on Earth, would be a better place without "Yo Mama" jokes.
Leave Gloria James alone, Pistons fans, and focus on
Chris Bosh
.