The agent for Phoenix Suns point guard Steve Nash says his client could be traded this summer. Posted by Ben Golliver.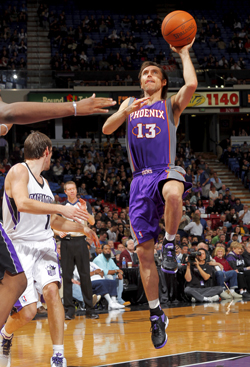 The Phoenix Suns have weathered the post-Amar'e storm better than, say, the Cleveland
Cavaliers
or Toronto
Raptors
have handled the departures of
LeBron James
and
Chris Bosh
, but they've still had their share of struggles.
Throughout the tough on-court stretch, whispers regarding the future of veteran point guard Steve Nash have grown louder and louder. But even as the Suns fell well below .500, the team's management and Nash himself both vigorously denied any and all trade rumors.
Finally: a crack in that facade.
ESPN.com reports
that Nash's agent Bll Duff, believes that Nash will be placed on the trade market this summer.
"Steve is a Phoenix Sun and I don't think it's an exaggeration to say he's the face of that franchise," Duffy said. "But logic dictates that it would be prudent for the Suns to start looking at their long-term future in the summer, so we would expect that they may entertain moving him during the summer. We are ready for that and we anticipate a very respectful process if they decide to look at starting over with a younger core."
Phoenix has turned thing around a bit lately following a blockbuster December trade with the Orlando
Magic
, reaching .500 this week and sitting just outside the Western Conference playoff chase with a record of 25-25. There's no question that the current team, led by Nash, could make a playoff push, with teams like the Denver
Nuggets
and Utah
Jazz
potentially falling back to the pack.
Duffy's comment, then, is likely an effort to buy his client some time and peace of mind in the weeks leading up to the trade deadline. The Suns might as well ride Nash as far as he will take them this season. Nevertheless, a public acknowledgement that the Suns might look to part ways with their franchise player in the near future qualifies as a fairly big headline, especially given the track record the team has presented up until this point.