Los Angeles Lakers guard Kobe Bryant stands up for Utah Jazz guard Deron Williams, saying he shouldn't be blamed for Jerry Sloan's resignation.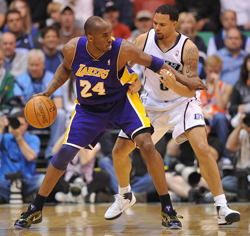 Posted by Ben Golliver.
On Thursday, Utah Jazz point guard Deron Williams
took to the radio airwaves
to defend himself from accusations that he prompted legendary Jazz coach Jerry Sloan's abrupt resignation. The Jazz also did their best to
close ranks and stamp down the drama
by expressing support for Sloan, new coach Tyrone Corbin and Williams during a press conference.
Thursday night,
Yahoo! Sports reported
that another voice emerged to defend Williams: Los Angeles Lakers guard Kobe Bryant's.
"People need to leave D-Will the [expletive] alone on this," Kobe Bryant told Yahoo! Sports on Thursday night. Bryant and Williams have competed in the Western Conference for years and won an Olympic gold medal together for USA Basketball at the 2008 Beijing Games. "Leave him alone. He doesn't deserve to be at the front of this. That's horse…. He's a great competitor. He works his butt off. He's always been a great leader. He's clutch, performs under pressure. Enjoy the 23 great years that Jerry Sloan gave them, but don't put this on Deron Williams."
Couldn't agree more with Bryant.
As noted earlier today
, Sloan has been through every imaginable fire and argument during a career that spanned six (!) decades as a player and coach. There's nothing Williams -- who is a gamer and known to be a bit surly, but never a cancer -- could say or do that Sloan hasn't already dealt with before.
A player can get a coach fired. A GM can get a coach fired. An owner can fire a coach. But it's much, much more difficult for any player to get a coach to resign his position. Especially when that coach is as principled, consistent and disciplined as Sloan has been during his 23-year tenure in Utah.
Williams, even though he's an All-Star, is just one of hundreds of players Sloan has coached. None of them could make Sloan walk away from the game like he did on Thursday. Only Sloan could do that.