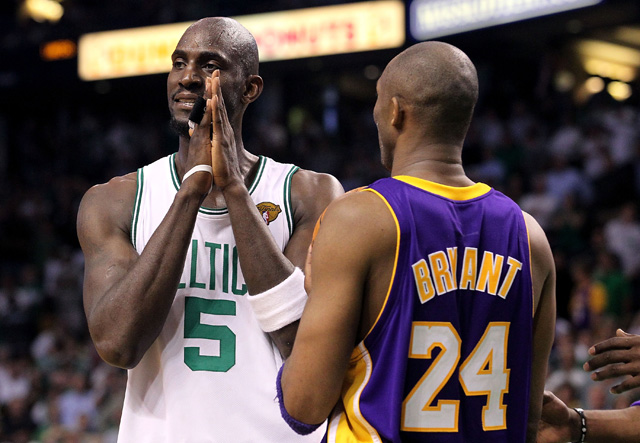 Posted by Matt Moore
If you think the phrase, "Takes one to know one" has any credence, there's a certain amount of irony to this story.
Kobe Bryant
was asked before the
Lakers
win over the
Celtics
Thursday night about the current debate about
Kevin Garnett
's ... ahem, explicit behavior. His response was at once unsurprising and really funny. From the
Boston Globe
:
"Hes a Celtic," Bryant joked when asked about Garnetts demeanor. "That's what Celtics do. You guys will love that one. He's always been intense. I've known him since high school and he's always been intense. But he's a great guy. I've known him for years. He's not a jerk by any stretch of the imagination. He's a good dude. But he plays his heart out though."
via
Kobe defends KG: Hes a great guy -Celtics blog - Boston Globe basketball news
.
So a player who even teammates will admit is kind of an (expletive) says that KG isn't a jerk. It's like Mubarak saying someone isn't stubborn. It's like kettle sticking up for pot.
At the same time, it makes a lot of sense that Bryant wouldn't have any issue with Garnett's behavior. After all, they've known each other for years, and Garnett is the fiery reflection of Kobe's cold obsession. Garnett plays with the intensity Bryant wishes all his teammates played with, that desperate drive to compete that borders upon pathological. But whereas Bryant's entire objective, his driven self-actualization is wholly devoted to winning and destroying his opponent, Garnett's is a manifest of the concept of "competition." He competes at such a high level all the time, regardless of success or defeat.
Then again, the one thing you can never claim Bryant does is fake anything. He'll clearly stand up to anyone, be it
Shaquille O'Neal
,
Raja Bell
, Godzilla, Mechagodzilla, or Phil Jackson. Garnett, on the other hand, faces criticism not for being too intense, but for acting too intense while never actually engaging anyone his own size.
Still, Bryant's central point does carry. Off the court, Garnett is known as a genuine sweetheart and is beloved by teammates, current and former. It's really only when he steps on the floor and adopts that crazed persona that he tends to rub on people the wrong way. Or when he's tapping guys in the junk. That, too.