Utah Jazz head coach Jerry Sloan resigned on Thursday. Here's a list of his accomplishments as both a player and a head coach. Posted by Ben Golliver.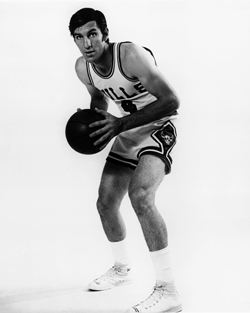 On Monday
, Utah Jazz coach Jerry Sloan announced that he had signed a contract extension and everything seemed right with the world. Instead: the shocking news Thursday morning that Sloan has
abruptly resigned
.
Here's a roundup of Sloan's accomplishments and achievements, facts and figures.
Jerry Sloan was inducted into the Basketball Hall of Fame as a coach in 2009.
Sloan's career record as a head coach: 1221-803, for a winning percentage of 60.3%.
Sloan is third all-time among NBA coaches in wins, trailing only Don Nelson and Lenny Wilkens.
Sloan was No. 1 among active NBA coaches in wins until his resignation.
ESPNNews notes that Sloan is the "only coach to win 1,000 games with one team."
Sloan coached for 26 seasons (including this season) total: three with the Chicago Bulls and 23 with the Utah Jazz.
According to NBA TV, 245 coaches were replaced while Sloan coached the Jazz.
Sloan finished with a winning record in 21 of his 22 full seasons as Jazz head coach. His resignation came with the Jazz above .500 as well.
His career playoff record was 98-104, for a winning percentage of 48.5%.
Sloan's teams made the playoffs 20 of his 24 full seasons coaching. He was fired mid-season in 1981-1982.
His teams advanced out of the first round of the playoffs 10 out of the 20 times they appeared in the playoffs.
Twice, Sloan coached the Jazz to the NBA Finals, in 1996-1997 and 1997-1998, teams made famous by the pairing of point guard John Stockton and power forward Karl Malone.
Sloan never won a title as a coach.
ESPN notes that only three coaches in any sport (Connie Mack, Curly Lambeau and Tom Landry) had longer tenures ever.
The Elias Sports Bureau notes : "40 current NBA players weren't born yet" when Sloan took over as coach of the Jazz in 1988.
Sloan played 11 years in the NBA, as a member of the Baltimore Bullets and Chicago Bulls. He averaged 14 points, 7.4 rebounds and 2.5 assists.
Sloan was twice named to the All-Star team as a player.
His jersey No. 4 has been retired by the Bulls.
Sloan is 68 years old and entered the NBA in 1965, 46 years ago. He has been either a player or head coach during that entire time, except for a five-year hiatus in the mid-1980s, when he was an NBA scout, CBA coach and NBA assistant coach.