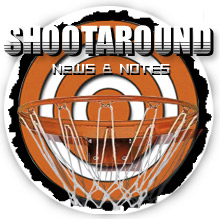 Posted by Royce Young
Something to keep an eye on is the weird situation that took place last night in Utah. Brian T. Smith of the Salt Lake Tribune: "Jazz coach Jerry Sloan was clearly not himself. Normally one of the fastest coaches in the NBA to speak to the media after a win or loss, Sloan spent more than 30 minutes behind closed doors Wednesday following Utah's tough 91-86 loss to the Chicago Bulls at EnergySolutions Arena. Once Sloan finally showed up, he appeared shaken and out of sorts. Asked about his time spent behind close doors, Sloan was as polite as ever. He was also honest. Sloan said that a conversation took place between his coaching staff and general manager Kevin O'Connor. But that was all that Sloan would reveal, and he took just two questions about the issue before stating that he would then only discuss game-related matters."
George Vecsey of The New York Times: "Blake Griffin's first venture to Madison Square Garden as a professional turned into a 116-108 victory by the Clippers that should have been humiliating to the home team. Griffin scored 21 points and had a few nice dunks, if not the spectacles that have made him quite the rage this season. After he had dressed, and wearing professorial dark-rimmed glasses, Griffin said he loved being in the Garden -- 'the atmosphere, especially with the Knicks going well.' They did not play well Wednesday, but this rediscovery of good team basketball -- some of the time -- has allowed Garden fans to appreciate opponents the way they did Oscar and West in kinder times, and when Jordan and Reggie Miller came to torment the Knicks in more recent combative times."
Mary Schmitt Boyer of The Plain Dealer: "How is it possible, when a team has lost 25 straight games, to come out with the sort of performance the Cavaliers put forth in Wednesday night's 103-94 loss to the Detroit Pistons at The Q? This shell of a basketball team absorbed its 26th straight loss, tying the all-time professional sports record set by the Tampa Bay Buccaneers in their first two years of existence in 1976-77. The performance was so bad that coach Byron Scott threw a fit at halftime and another one after the game, when he kept the locker room closed for 30 minutes."