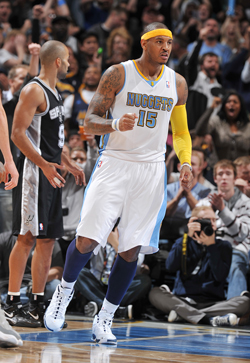 Posted by Royce Young
There's one scenario in all this Melodrama that it seems we've yet to even consider: He stays in Denver.
No, not for good, but at least through the rest of this season. It's actually possible, because the
Nuggets
don't
have
to do anything with
Carmelo Anthony
. It's their perogative to trade him if they want.
And according to The Denver Post,
there is a scenario is which the Nuggets would keep Carmelo for the rest of the season.
"Those close to the situation say there is a better-than-average chance Anthony will not be dealt until after the season. But that option isn't the best way to collect a significant amount of future assets for the forward. Yet, if the Nuggets are going to get something similar now to what they could get in the offseason, they will opt to keep the team intact and see what it can do in the playoffs."
You know what that probably is? More leverage from the Nuggets. The whole Melo-to-L.A. stuff was entirely done to try and raise the
Knicks
' eyebrows and that's what this is probably intended for too. The Nuggets are saying, "Oh yeah, well how about we keep him?"
Problem with that is, the Knicks probably wouldn't mind one bit. They already know full well that they can just sign Anthony when he's a free agent this summer. It's just a matter of if someone else can convince Melo to sign an extension in their city, because he's almost definitely getting traded.
So the risk here for the Knicks is that if Melo goes to, say, Dallas, that he'd enjoy himself so much there that he'd just ink an extension with the Mavs. Unlikely, but possible.
If the Nuggets wait until the summer though, they basically axe any decent trade they would've gotten in-season. There's no chance they'll get similar return to what they could get now. Instead of getting actual players and picks, Denver will likely get a trade exception and some cash. Not exactly what they were after by starting up this whole Melo mess.