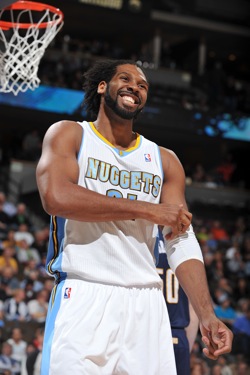 Posted by Royce Young
A few weeks ago, Ken Berger brought news
that the
Nuggets
may have to deal with another player leaving Denver.
Nene
has an early termination option this summer and by the sounds of it, is strongly looking at exercising it. So the Nuggets might be looking to move Nene to avoid getting Meloburned by him too.
Which means a lot of teams probably have called about Nene.
One reportedly being the Golden State,
who I think have made inquiries about every player in the NBA at this point.
The
Warriors
desperately are looking for a legit low-post scorer to go with
David Lee
.
Andris Biedrins
says the group of him, Lee and
Brandan Wright
could get it done though, if given the opportunity.
"Collectively, I would say yes we could do it," Biedrins said. If you just give us the opportunities, we can prove we don't need it."
Wright: "You really have to ask Coach Smart why I couldn't help the team out in that (area). I guess I'm not the man for the job right now. I could easily produce. I'm in the best shape of my life. I feel good about my game."
Reportedly, Nene has three teams in mind -- Dallas, Miami and a mystery team -- and a lot of other teams interested. More than likely Nene will be in the same situation as Melo if a trade comes up. It would likely be under the condition that he signs an extension with his new team.
Nene is going to have quite the market around him because not often can you go get a reliable low-post option like him at the deadline. The Nuggets may not even be interested in moving him, but if they aren't going to re-sign him, they might just decide to blow it all apart and move him.