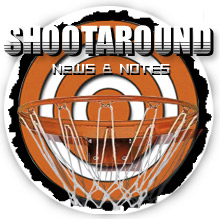 Posted by Royce Young
Rip Hamilton was deactivated again, but this time for a sore groin: "You can blame everybody, you can blame me," Hamilton told The Detroit News . "It's one of those things that I thought should have never happened in the first place, and then if it needed to get resolved, it should have got resolved after the first game I sat, not 30 days later. It's a mystery, right?"
Gregg Popovich on newly signed Steve Novak: "If I put him in, I want him to make a shot."
David Stern wants to see Donnie Walsh stay in New York, says the NY Post: "Stern has worked quietly behind the scenes to have Knicks owner James Dolan bring back president Donnie Walsh to finish out the final year of his contract, a source with knowledge of the situation told The Post."
Bill Plaschke of the Los Angeles Times: "How are you going to build a franchise around a player who has spent six years here without one defining moment? The answer is, you can't. And when the Lakers responded to Tuesday's Internet buzz by saying they would never trade Bynum to Denver for Carmelo Anthony, I was struck with one more question. Why not? If they want to slip another championship or two under the closing window of Kobe Bryant's career, this is their best chance. If they want to lay down a new foundation to begin the rebuilding process after Bryant leaves, this works. Bynum, a great guy who has been victimized only by his own brittle body, has thus proven to be neither kingmaker nor cornerstone. At the Lakers' current pace, they're not going to win this year's title with him, and history says he won't be sound enough to lead them to future ones. You say Bynum is only 23. I remind you that Anthony is only 26."
Scott Fowler of The Charlotte Observer: "Grow up, Stephen Jackson. The world is not out to get you. And NBA officials don't make up their mind before each game to mess with you. You've gotten three technicals in the past two games, including two against the Boston Celtics on Monday night that got you thrown out in the second quarter and caused you to miss one of the best wins in Charlotte Bobcats franchise history. You're up to 13 technicals now for the season and about $180,000 lost in salary and fines because of your consistent referee abuse. If you get to 16 technical fouls, you will be automatically suspended for one game by the NBA (which will cost you another $102,000)."