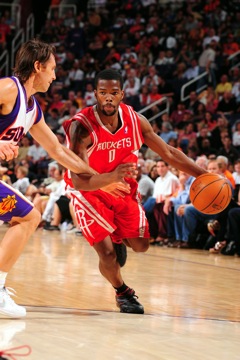 Posted by Royce Young
Things can change quickly in professional sports. One minute you're the star of a team, a building block for the future. The next, you're on the trade block.
That appears to be the story for
Rockets
guard
Aaron Brooks
as
Newsday reports that Houston is "going to try hard" to move Brooks
before the Feb. 24 deadline. The report also says the
Knicks
are interested in acquiring Brooks.
Brooks is a restricted free agent after this season, so that will bring down the price tag. He's making $2 million this season.
As pointed out by Posting and Toasting,
a potential trade could include
Kelenna Azubuike
's expiring deal ($3.3 million) that is eligible to have 80 percent covered by insurance.
The Rockets have a pretty good stable of guards with
Kyle Lowry
who has taken over the starting duties at point,
Kevin Martin
and
Courtney Lee
. Rookie
Ishmael Smith
has moved between the Rockets and the D-League, but he'll likely find a permanent spot if Brooks is moved.
Brooks of course had a recent issue with the Rockets as he was suspended for Monday's game for leaving the floor after being substituted in a game over the weekend. But the issues with the team go back to before the season too
as he was vocal about wanting an extension with the team
though general manager Daryl Morey said the team had a "policy" about not giving them out.
I guess you can kind of see why Morey held off now. It's why he's one of the smartest out there. Other GMs would've hit Brooks with a five-year, $50 million deal the second he asked for it.
Things haven't gone well recently in Houston for last season's Most Improved winner, with him losing playing time and even his starting spot. He battled an ankle injury early on but since his return hasn't performed up to expectation. Brooks, 26, is averaging 12.2 points and 4.1 assists per game this season after his career-best 19.6 points and 5.3 assists in 2009-10.
The Knicks have been after a backup point guard for
Raymond Felton
for some time, but to me it seems like Brooks might be a little
too
good for that role. If Brooks isn't happy about his minutes in Houston, why would he all of a sudden be happy in New York behind Felton?