More names have surfaced in a Carmelo Anthony trade proposal involving the Denver Nuggets, New York Knicks and Minnesota Timberwolves. Posted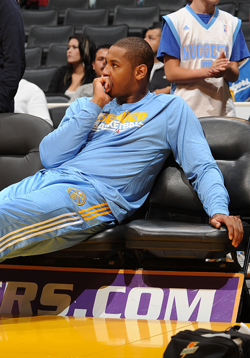 by Ben Golliver.
The latest round of Carmelo Anthony trade proposal rumors have involved the Minnesota Timberwolves, who have tons of cap space to act a potentieal facilitator of a deal between the Denver Nuggets, who must trade their All-Star forward or risk losing him for nothing this summer, and the New York Knicks, who want Anthony but are trying to appeaer coy about the whole thing.
Last week, CBSSports.com's Ken Berger
first reported the talks
. Over the weekend, we
noted one trade proposal
that involved Knicks center
Eddy Curry
and forward
Anthony Randolph
going to Minnesota along with cash, Timberwolves forward
Corey Brewer
, a pick, and Knicks forward
Wilson Chandler
going to Denver, and Anthony going to New York.
The New York Post reports
on Monday that the talks are in "advanced discussions" and that a few other Knicks may be involved as well.
Rookie guard Andy Rautins and Kelenna Azubuike's expiring contract have been discussed as parts of the Carmelo Anthony three-team package, The Post has learned. The Knicks have to add more pieces to the reported three-team trade proposal for Anthony to make it work from a talent and financial perspective for the Nuggets, according to NBA sources.
The Knicks, Nuggets and Timberwolves have had advanced discussions on a three-team trade, according to two people with knowledge of the situation.The Knicks would also give up Wilson Chandler, Anthony Randolph (to Minnesota) and Eddy Curry's expiring contract.
Here's what it would look like
in the trade machine
, if you're interested. It can't go down exactly as constructed because Denver would exceed the league's 15-player roster maximum, so either Denver would need to shed some other pieces or the incoming package wouldn't include all four of the names that have been floated out there.
For Denver, all that's missing is talent! But, seriously, this is a huge discount on the New Jersey
Nets
offer that was discussed for the last few months. Financially, the Nuggets take on no future obligations -- acquiring three expiring contracts -- except Rautins, who is on a second-round pick's rookie deal. The picks would be nice, too, but still not nearly as attractive as the prospect of
Derrick Favors
. It is better than nothing, however, and we are entering the stage of negotiatons where "better than nothing" is starting to look better and better.
For New York, this is the dream scenario: upgrade from Chandler to Anthony without sacrificing a single core piece in the process. It allows New York to become a legit title contender in the East. Nothing more needs to be said.
Remarkably, Minnesota might come up even shorter than Denver here. The Wolves are one of only two teams, along with the Sacramento
Kings
, to have legit cap space, and that's proven to be a powerful trade deadline asset. To turn that space into Anthony Randolph, still a project, and enough cash to cover the difference between the remaining money owed to Curry and Brewer doesn't seem like a very good return on that asset. Surely there are better offers out there, either now or as we get closer to the deadline.
Any time two of the three teams are coming up short, that's probably a good sign this deal isn't going down as reported. But this triad of teams is worth keeping an eye on, purely for financial reasons. The Knicks have money to burn and a desire to get a deal done; given their respective ownership groups, both Denver and Minnesota are always in the market for financially beneficial moves and, in this case, Minnesota is in a perfect position to help make that kind of deal happen.
There's no reason to believe that these three sides shouldn't continue talking in an effort to craft a more even proposal that benefits all of the involved parties. But this iteration is lacking some needed clarity.