Los Angeles Lakers coach Phil Jackson takes a shot at Boston Celtics forward Kevin Garnett. Posted by Ben Golliver.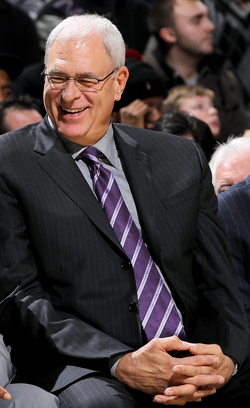 Earlier today, we noted that the NBA
has taken to looking past the transgressions of Boston Celtics forward Kevin Garnett, allowing a laundry list of unsportsmanlike plays to stand without any meaningful repercussions.
One person who isn't content to let it all go without saying something: Los Angeles Lakers coach Phil Jackson, of course, who took a solid swipe at Garnett while praising his center
Pau Gasol
,
as quoted by DailyBreeze.com
.
"Pau knows who he is," Jackson said. "He's tenacious. I like him to be aggressive offensively. He's always a willing passer. The one thing I'm on him about is getting that first rebound. Don't let them knock it out of your hands. Don't let them knock it away.
"Otherwise, all this talk about how aggressive he is or how aggressive he isn't falls on deaf ears. He totally gets it. He is who he is. We're not going to make him into (Boston's Kevin) Garnett. He's not going to go around and punch guys in the (groin). He's too nice of a guy.

"This is an intelligent person who understands what this game is about. We've been to the Finals three years in a row, so that's part of it."
Jackson, of course, is making reference to a recent low blow Garnett leveled on Phoenix
Suns
big man
Channing Frye
, a play that eventually led to
his ejection
due to arguing and for which he
refused to apologize
and was
not suspended
.
We've previously lamented that there is no one at this point of his career that can get through to Garnett, no one that can encourage him to better understand the decency line and work a bit harder to stay on the correct side of it. The only person who can do that, save a super-duper heavy-handed commissioner Stern, is Garnett himself, and he clearly doesn't care.
Given that situation, and the league's inactivity to this point, it's nice -- for once, a rare situation indeed -- to hear Jackson offer his two cents. Even if only a glancing blow, Jackson's statement serves as an acknowledgement that those around the league -- colleagues and competitors -- are not totally blind to his shenanigans.
To describe Garnett as a player that goes around punching guys in the groin certainly sells Garnett short, but that's exactly the point: Garnett's greatness as an individual defender, team defender, leader, consistent rebounder and there-when-you-need-it scorer are overshadowed by his antics. To set up Garnett as the foil to Gasol's nice, intelligent, winning persona is to attack Garnett's professionalism and to indirectly question whether his priorities are in order. Those are big words, and not many around the league have the audicity or confidence to deliver them.
It pains me to say this, but in this situation we need more Phil Jacksons.