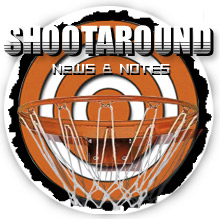 Super-heroes, Super Bowls, and super-aggressive. All that and more, in today's Shootaround.
Posted by Matt Moore
For all your post-Super-Bowl coverage needs, be sure to check
out our Eye on Football blog
.
Following a series of Marvel Comics NBA Season Preview covers for ESPN, Marvel and the NBA will begin producing merchandise according to a press release.
Rick Adelman
says he's not worried
about his contract. Ironically, Adelman has overachieved with an undermanned roster each year except this one, where even without
Yao Ming
, he's underperformed. Bad timing.
Add
Marc Gasol
to the list of players who has co
nsidered returning overseas at some point
, which would take a major
Grizzlies
building block, and huge 2011 restricted free agent, off the table.
Kendrick Perkins
can't see himself playing anywhere else but Boston
. That's the kind of money quote
Celtics
fans were looking for to ease their minds about Perkins' upcoming free agency.
Phil Jackson says
Pau Gasol
will never be
Kevin Garnett
,
going around trying to "punch guys in the groin
."
This just in,
Gilbert Arenas
still says nonsensical things
.
Stephen Jackson
: "I
get techs because I want to
. I don't care."
Delonte West
says he'll be back
the first game after the All-Star break.
Marquis Daniels
is expected to miss 1-2 months
after that scary neck injury Sunday.
LeBron James
kind of
had somewhere else to be yesterday
instead of beating the
Clippers
.