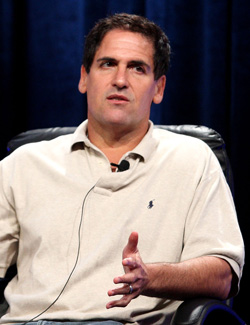 Posted by Royce Young
Mark Cuban has never been shy about expressing his feelings or thoughts. It why a lot love him and why a lot hate him.
The feeling has always been that Cuban is a thorn in David Stern's side and someone that butts heads with the league.
But in an interview recently on Dan Patrick's radio show,
Cuban gave big props to Stern and when asked if he would like to be commissioner, Cuban said no way.
"No. I don't have the personality. I don't have the patience. I am not a fan of compromise. David does a really good job of dealing with all of the different personalities, being able to find compromise, being able to find a happy medium, and that is just not me…

I think he does a great job actually. If someone like me came in and said something I would be like, 'Are you an idiot?' The commissioner can't just say that. 'Oh what a great idea. Let me consider it and take it under advisement.'"

I think that is one of the best quotes I've ever read from Cuban. Especially the "I am not a fan compromise" part. It's the truth of what makes Stern so incredibly good at what he does. He hears all stories, all ideas and all opinions. He never jumps too quickly to a decision and definitely gives a voice to the owners and players.
Plus, he handles every question and every interview as well as you possibly can. Cuban would be a fun commissioner, but a horrible one. He's right about that part.
Via Sports Radio Interviews