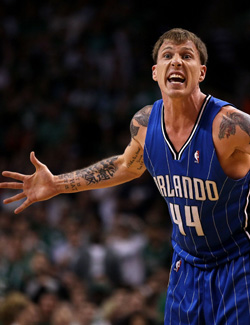 Veteran guard Jason Williams reportedly signs with Memphis.
Posted by Matt Moore
White Chocolate is back in River City.
The
Memphis Commercial-Appeal
reports that Jason Williams has reached an agreement in principle with the Memphis
Grizzlies
. Williams will join a wretchedly thin backcourt with
O.J. Mayo
on suspension, and should immediately compete for the backup point guard position behind
Mike Conley
.
Greivis Vasquez
has had a handful of solid games, a few great games, and a whole lot of bags-of-vomit games. Williams should get considerable time as a veteran in Lionel Hollins' rotations, especially considering the owner upstairs Michael Heisley is big on him.
What's interesting is how it is he came to be a Grizzly. From the
Commercial-Appeal
:
Memphis wanted to claim Williams off waivers before he became an unrestricted free agent last weekend. Williams asked the Grizzlies to pass apparently because of his doubts about playing at all.Williams is now said to want to play beyond this season.
via
Point guard Jason Williams agrees to deal with Grizzlies » The Commercial Appeal
.
"Well, I'm not sure if I ever want to play again, but, okay." Congratulations Memphis, you were his first choice, just before "retire, again."