Golden State Warriors owner Joe Lacob reportedly apologized to guard Stephen Curry for bringing up his name in trade talks. Posted by Ben Golliver.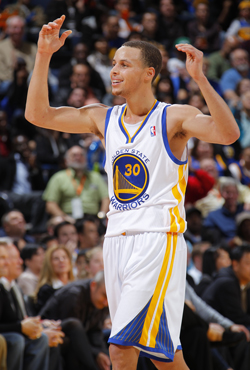 Earlier this week,
we noted a report
that Golden State Warriors point guard Stephen Curry was "shocked" to hear that his team's new owner, Joe Lacob, had brought up the idea of trading either him or guard
Monta Ellis
on a radio program.
At the time, we wrote that calling out players in public is almost always a disaster and that Lacob would likely regret making such a statement once he took some time to fully think through the implications it might have on a young player's psyche.
On Friday,
Yahoo! Sports reports
that Lacob did indeed re-think his stance and apologized to Curry for his statements.
Curry said he received an apologetic text message from Lacob the morning after the Mercury News interview. Warriors general manager Larry Riley also called Curry, his father and his agent to calm the situation. In an interview with Bay Area radio station KNBR this week, Lacob said both Curry and Ellis would be Warriors "for a very long time."
"He was making sure I was certain that he liked my game, liked me here, liked how I fit with the system," Curry said of Lacob. "He could have easily let me read and interpret it for myself."
This is the proper, class move from Lacob. He made a fairly bone-headed mistake as a first-time owner and he made it right before things got too emotional. The situation never should have happened, but at least it was resolved well. Curry sounds fairly happy with how things turned out too.
"I think optimistically about everything," he said. "I like it here. I like my teammates and everything about the Warriors organization. I can't picture being anywhere else, especially this early in my career."
Now that the entire process has played out, I'm left to return to my first reaction. Stephen Curry is really freaking good and he's on his rookie deal. How exactly did Lacob plan to trade him and get fair value?
In the end, this one goes down as a bizarre, nonsensical series of events, but at least it won't linger as a personal affront.