Washington Wizards forward Andray Blatche blasts off on Wizards fans. Posted by Ben Golliver.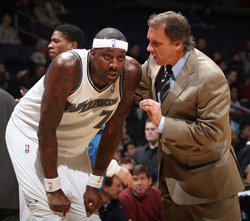 Somebody call Kanye West: We've got a blame game going on in the nation's capital.
First, Washington Wizards coach Flip Saunders publicly called out forward Andray Blatche after the Wizards lost to the New York
Knicks
on Monday night. Saunders was
quoted by CSNWashington.com
as saying, "He was terrible, he was bad. He was bad. He didn't look like he had energy or something. He didn't have it. When you're a quote-unquote go-to guy you can't have those kind of games. You gotta get some energy and find a way to produce."
OK, the in-over-his-head coach of a team that just lost its 21st consecutive road game of the season blames his knucklehead go-to player. Not really the most productive course of action, but it's at least somewhat sensical, as Blatche went 2-10 in 28 minutes to finish with six points and five rebounds.
On Tuesday, however,
SBNation DC quotes
from
a 106.7 FM rant
that Blatche handled the pressure about as poorly as you could imagine, making three excuses for his poor play in one sentence -- he's ill, he has a shoulder injury and he has a knee injury -- before going on to say that he wasn't going to make any excuses. From there, the inane turned into the regrettable, as Blatche blasted off on Wizards fans, who he believes are disloyal, citing former teammates
Gilbert Arenas
as a trusted reference.
That caused him to share a conversation he had with Gilbert Arenas, in which the mercurial, divisive outgoing star told him 'You're next.'
"We had a discussion, and this is what he said to me. 'Just as fast as they turned on me, it's going to happen to you.' I took it as a joke, but I actually see what he's talking about. Everybody is looking for someone to blame, and I feel like I'm turning into that person just like Gil."

"If you're a Wizards fan, that means you cheer for everybody. That doesn't mean you'll come to a game and you shout 'Trade him!' If you're part of a Wizards organization fan group, that means you cheer for the team."
Blatche's understanding of the basketball fan is both completely wrong and condescending, as he apparently believes the general basketball-viewing public is made up of money-spending robots that should not concern themselves with matters of performance. And let's not forget character or civil decency, as Blatche put
a black mark on his entire organization
by fighting with teammate
JaVale McGee
at a nightclub on Christmas Eve and long-ago attempted a tryst with a lady of the night.
If Wizards fans weren't already shouting "Trade him!" they should be now. That is, if only anyone in the league would touch him. Blatche is unintentionally wise to compare himself with Arenas: he's another player standing in the way of
John Wall
's greatness who will wind up being very, very difficult to dump.
As for Saunders, he's probably frustrated and at his wit's end, but he clearly applied more pressure than Blatche was capable of bearing. Throwing a player to the media wolves will only delay the inevitable for Saunders, who will surely take plenty of
Heat
himself before season's end.
The entire scene makes you feel bad for Wizards owner Ted Leonsis, as media-savvy and fan-friendly as NBA owners get. If I'm Leonsis, I'm looking at both Saunders and Blatche this week thinking, "Man, I can definitely do better than this."