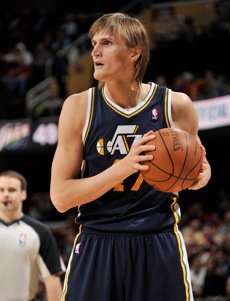 Posted by Royce Young
We all know about the lockout that's almost guaranteed to happen. But we have really talked, or thought, that much about what would happen with the players during it.
One player already has a plan.
Andrei Kirilenko
says he would try and get back on a team in his native Russia if there's a work stoppage.
"If a lockout happens, I will definitely go back to Russia and play on a Russian team," Kirilenko told The Salt Lake Tribune on Wednesday.
Kirilenko, who just gained his U.S. citizenship on Monday, will enter the 2011-12 season in the final year of his contract with the
Jazz
.
The owners biggest bargaining tool in negotiating with players is money. Most agree that if a work stoppage happens and players stop getting paid, that they'd crumble eventually because they need money. Despite making millions, it's amazing how many players play paycheck to paycheck. But when you've got all those expenses, the bills just don't stop coming because you're not getting paid.
But Kirilenko obviously has a plan and a way to make money. Other players? Yeah, they probably don't have that luxury. And I don't think guys will want to uproot and head overseas for a couple weeks (or months) just to get paid.
The lockout's coming, so it's best to get ready. Players included.