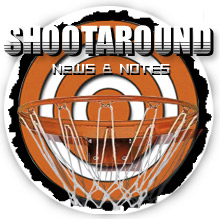 Is Avery the man? Did Amar'e tamper? Has Nash had enough? We ask these questions and more in today's Shootaround.
Posted by Matt Moore
Is Avery Johnson the man for the job in New Jersey? One of the biggest concerns has to be the regression of Brook Lopez. Mono or no mono, Lopez has taken a huge step back under Johnson, and as he's the cornerstone of the franchise, that's a giant red flag. Johnson was a solid pick for a playoff team, but he's not shown he has the ability to develop a young roster like one the Nets have.
Amar'e Stoudemire may have contacted Melo by text to try and clear him off accepting the Nets' offer. If so that's at least dancing with tampering, and if it keeps up, the commissioner's office is going to step in, no matter, or perhaps due to how off-hands his office was with the Miami ordeal.
Carmelo Anthony and Rip Hamilton teach you English.