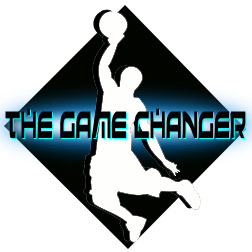 LeBron James and the Miami Heat come back to defeat the Trail Blazers in Portland, a star-studded courtside scene in Los Angeles for Lakers vs. Knicks, Nicolas Batum swats James, the latest on the Carmelo Anthony trade rumors, and a whole lot more. Posted by Ben Golliver.
Each game is made up of elements which help formulate the outcome. Monday through Friday, we'll bring you the elements from the night before's games in our own specialized version of the game recaps. It's not everything that happened, but it's an insight into what lead to the results you'll see in the box scores. This is
the Game Changer.
THE BIG ONE: LEBRON LEADS HEAT COMEBACK IN PORTLAND
I'm not sure what it is about Portland's Rose Garden this season. The stadium drew
a brilliant stretch of play
from Orlando
Magic
center
Dwight Howard
back in December, an offensive array I didn't think would be matched this season. Silly me, overlooking the team that dominates NBA coverage on a daily basis.
The Miami Heat strolled into the Rose City on Sunday night, and both
Dwyane Wade
and LeBron James topped Howard's effort. It was Wade early (he had 20 by halftime) and James late (he finished with 22 of his 44 points in the fourth quarter and overtime), ridiculous bookend performances to cap off an uneven, charged game for Miami.
The rumors about the bad body language, bench disputes and mistreatment of NBA officials? All true. LeBron James
spanking himself
after making a big three-pointer? Also, sadly, true. Miami plays spoiled and entitled basketball, there's no other way to put it, but they delivered on it, mounting a steady, overwhelming comeback in the last two minutes of regulation to force overtime, then crushing Portland's resolve in the final period.
While the Blazers had two
Andre Miller
jumpers in the last 10 seconds of regulation to win it, it wasn't meant to be, and the home team found itself scratching its collective head, proud of the defensive job it had done on James and Wade and knowing it hadn't quite been enough.
I recently wrote off James as an MVP candidate this season, based mainly on the idea that he had poisoned the well, but the final seven minutes of his performance on Sunday showed that he is not only the best basketball player in the country, but that he is continuing to do it his way, regardless of the repercussions or response. As boos rained down, James soaked it in, raising his arms to the crowd and mugging as he poured in big shot after big shot.
God save us all if he ever wins a title.
GO-GO-GADGET LINES OF THE NIGHT:
LeBron James
: 44 points, 13 rebounds, six assists, and two steals in 46 minutes in a Miami Heat road win over the Portland Trail Blazers.
Dwyane Wade
: 34 points, eight rebounds, and five assists in 43 minutes in a Miami Heat road win over the Portland Trail Blazers.
LaMarcus Aldridge:
31 points, 14 rebounds, and seven assists in 45 minutes in a Portland Trail Blazers home loss to the Miami Heat.
Kevin Love
: 18 points and 17 rebounds in 35 minutes in a Minnesota Timberolves road loss to the San Antonio
Spurs
.
J.J. Hickson
: 23 points,17 three rebounds, three assists, two steals in 35 minutes in a Cleveland
Cavaliers
Raptors
road loss to the Phoenix
Suns
.
DON'T MISS:
COURTSIDE SCENE:
The stars come out when the Los Angeles Lakers play the New York Knicks, and here actor Denzel Washington and recording artist Will.I.Am rub shoulders with the Lakers' mysterious billionaire minority owner, Dr. Patrick Soon-Shiong.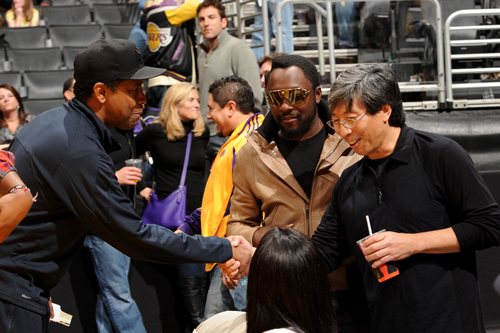 WHIMSY:
Los Angeles
Clippers
rookie point guard
Eric Bledsoe
displays an interesting new straightjacket dribbling technique.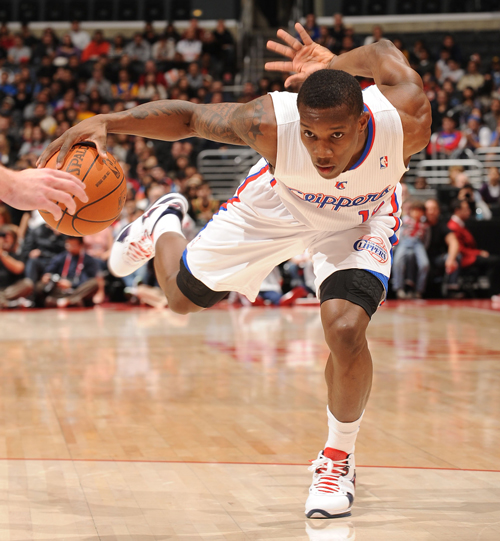 HIGHLIGHT REEL:
James decimated the Blazers late, but earlier in the game Portland's young French wing, Nicolas Batum, made a perfectly-timed, perfectly-clean block on a James lay-up attempt, much to the Rose Garden crowd's delight.
FINAL THOUGHT:
It may be time to unthink what we thought we knew in the Western Conference. With the Denver
Nuggets
poised to move Carmelo Anthony and the New Orleans
Hornets
coming back to Earth, what looked like a four team (Portland, Memphis, Houston, Phoenix) race for the final playoff spot has now expanded into a six team race for the bottom three slots. You might even be able to throw the Golden State
Warriors
into the mix as well, and call it a seven-team race.