San Antonio Spurs guard Tony Parker and coach Gregg Popovich addressed Parker's divorce with Eva Longoria. Posted by Ben Golliver.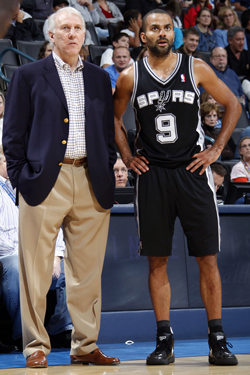 There's a reason that the San Antonio Spurs have been a model NBA franchise and a model of consistent success for more than a decade: a no drama, work-first ethic that starts at the top of the organization and reaches all the way down to the last guy on the bench. Power forward
Tim Duncan
and coach Gregg Popovich are the public face, providing reliable statistical production and a level-headed calm, respectively. So it's no surprise that the Spurs are greeting the explosive tabloid headlines that surround point guard Tony Parker and a
Tuesday divorce filing made by his wife
, actress Eva Longoria, in typical, buttoned-down, tight-lipped fashion. Said Popovich before Wednesday's game against the Chicago
Bulls
,
according to NBA.com
.
"This is a difficult situation for everyone obviously. But Eva and Tony are two people that we love and care about, and we wish them both the best as they move through this. That's really all I have to say about it."
Parker didn't elaborate much past that, except to express his right to privacy.
"It's a difficult time right now for me and Eva. Everything else is our private life." When asked to comment on reports that Parker was involved with the wife of a former teammate, Parker said "That's my private life. I'm having great support from my teammates and my coaches, and I'm focused 100 percent on the Spurs and trying to win basketball games."
This is really a perfect play from Popovich and Parker, who at once acknowledge the situation and express a personal touch by using the world "difficult," but also keep focus on the bigger basketball picture.
It's quite possible that a situation such as Parker's could cause serious chemistry issues in a number of NBA locker rooms. The Spurs aren't any old NBA team, though, and their initial response to a potentially chaotic situation was right on the money.