Posted by Royce Young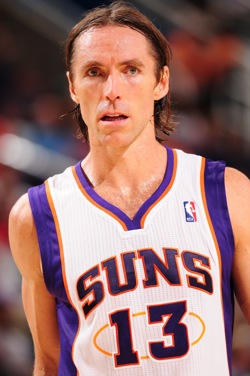 Nobody is more of a softspoken statesman whose words carry big sound than
Steve Nash
. He knows how to say just what he wants in order to get what he wants.
And in an interview with SB Nation Arizona,
Nash surprisingly conceded that the
Suns
may be ready to take a step back and rebuild. Or if he had money on this season, not to take the Suns.
"To be honest, if I was outside this picture and a betting man, I would probably pick us to be outside of the playoffs considering all the changes and the new guys."

"Maybe we need to take a step back, regroup, be a little bit more patient, build a really good team and see how good we can be later in the year instead of jumping out of the gate and be like, 'Oh, we've got to finish top two or three in the West and give ourselves a chance to win the West and go to the Finals.' That stuff can come if we really improve, but we can't put that type of pressure on ourselves right away because we are a new team."

Translation: We might not be that good. So please Suns fans, hang in there with us.
What's refreshing is that Nash understands this. He knows
Hakim Warrick
isn't
Amar'e Stoudemire
. He knows that
Grant Hill
aged another year. He knows that
Hedo Turkoglu
isn't the answer to anything but "Ball? Ball." He knows that though improved,
Robin Lopez
isn't any kind of franchise big man. Nash knows this. And he's not pretending to be leading a world-beating squad.
I don't know if there's any kind of
subtle plan behind Nash's comments,
or if he was just being honest about his team. Some players like
Rodney Stuckey
and
Michael Beasley
say things like, "On paper, we're the best evah!" and "Really, if you think super hard about it, we're probably the best team." Nash on the other hand says, "I would probably pick us to be outside of the playoffs." That's something new.
It is possible however that Nash has a plan with these types of comments. He is 36 years old and isn't getting any younger, despite what you hear about the
Magic
of the Suns training staff. Maybe he's worried about ending his career on a sour note. Maybe he's prodding management to go grab him some help. Or maybe he's just setting the fanbase up to lower their expectations.
It's easy to think that surely there's a motive here because in today's atmosphere of professional sports, who tells a fanbase their team might not be great? I don't deny that Nash set up fans for a lottery team for a reason. He did make a power play to get Shaq out of town and according to some, helped nudge Terry Porter out the door earlier than expected.
Most have been forecasting the Suns the set (GET IT?!) for a while now. Last season looked prime for it to happen, especially with the rumors of Stoudemire being dealt swirling all season. But they hung on to Stoudemire and made a surprising push into the third seed in the West and a conference finals run.
Now though, it looks like it might be time for Phoenix to fade. And their fearless leader knows it.