Posted by Royce Young
Chris Bosh and Dwyane Wade are teaming in Miami . That piece of the puzzle has been placed. That means the Miami Heat currently have four players on the roster, not counting the Joel Anthony. I'm no James Naismith here, but from my knowledge of basketball, I think it takes at least five to field a team.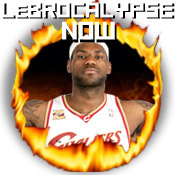 Currently, the Heat have only about $11 million on the books including Anthony's million dollar qualifying offer. Assuming Wade signs a max deal, that number goes to something like $28 million. Bring in Bosh in a sign-and-trade (or just a regular free agent deal) and you're looking at something a little under $45 million. And with the cap rising to over $58 million, which was entirely unexpected, things look a little better for the Heat. However, still with the current contracts on the books, the Heat don't have enough cap room to offer LeBron , Wade and Bosh all max deals. They'll have to take a paycut , of about $1 million. So instead of making $16.5 million, they'll make $15.5. How terrible for them.

Now of course a way around that would be by unloading Michael Beasley to someone for little or nothing. That would be enough to free up for three max deals, however, that's one more roster spot that needs filling, plus the Heat probably won't get a player of Beasley's caliber to fill it.
So what do they do after that? They've maxed out their cap room, yet have to fill seven more roster spots, if you assume the Heat match Anthony's qualifying offer. The NBA requires 13 players on an active roster, and if the Heat sign the big three, that'll give them six players (Mario Chalmers, Michael Beasley, Wade, Bosh, LeBron and Anthony). Since the Heat will be at the cap threshold, they've have to fill out the depth chart by signing minimum salary players - seven of them - to field a legal team.
The first and most obvious option is for Miami to sign its second-round picks . The Heat took Dexter Pittman, Jarvis Vanardo and Da'Sean Butler in the second round. So there's a center, a power forward and a small forward right there. See, this is all working out! But those second rounders wouldn't require a bunch of money and would serve as some nice depth on the back end of that roster. Those three guys aren't bad players by any means. So now they're lacking just four more players.
They could re-sign James Jones (who they bought out just a month ago) to veteran minimum deal. And then go grab three more veteran players that might be looking to latch on to a team just to sit on the bench and make a championship run. Dan Marino and Karl Malone are listening intently right now.
Honestly, the Heat could make this work. I don't know how realistic a chance of winning this kind of make-shift roster would have, but it definitely could work.
But what if that doesn't happen and LeBron goes elsewhere? Adrian Wojnarowski reported yesterday that if the Heat can't lure LeBron , they'll immediately look at other options, one being a deal for Andre Miller and/or Rudy Fernandez. The Heat talked with Portland since before the draft about a deal sending Chalmers and a first-round pick to Portland for Fernandez, but as Wojnarowski reports, those talks possibly have expanded to include Beasley and Miller.
That is an immediate upgrade for the Heat and gives Wade and Bosh a pedigreed creator and distributor for them. But what other alternatives are there, other than just saying forget it and playing with four?
The Heat could l ook at the remaining pool of free agents . They'll have about $15 million to play with and they surely don't want eight minimum players to play with Bosh and Wade. And lucky for them, there are still good options out there. Brendan Haywood is available, but he's going to want somewhere in the ballpark of at least three years, $10 million. Zydrunas Illgauskas, Shaq or Luis Scola are still out there too.
Raymond Felton would be a fit at point guard and likely won't sign for more than the MLE. Also, there's Nate Robinson who's unrestricted. The Heat could re-sign Udonis Haslem , who is an excellent role player and would probably fit well next to Bosh. Small forwards like Matt Barnes or Josh Howard would fit. All those would surely sign under the MLE, so that'd be something like $4-5 million. Mike Miller doesn't have a team yet and he wouldn't require a ton of money. There's still a number of players out there to be grabbed. Heck, maybe bring Tim Hardaway and Alonzo Mourning out of retirement, I don't know. The thing is, Miami doesn't want to spend big here, but surely want a contributor. The Heat aren't building for the future – these moves are to win now .
The Heat won't be dead in the water without LeBron . Bosh plus Wade, plus a cast of quality role players can surely be a winning combination. Lots of reports say LeBron is leaning towards joining forces with Wade and Bosh in Miami, but we'll have wait until "The Decision" to find that out.
The third option would be... um, third... well, I guess utilize the D-League, sign some 10-day contracts and just play out 82 games that way. The roster has to be filled out somehow. The NBA requires at least 13 active players. Right now, Miami has two/three including Anthony. After Bosh and Wade officially sign, four. And after The Decision, maybe five. Regardless, I'd say they have some work to do yet.